Nine Amazing AX Moments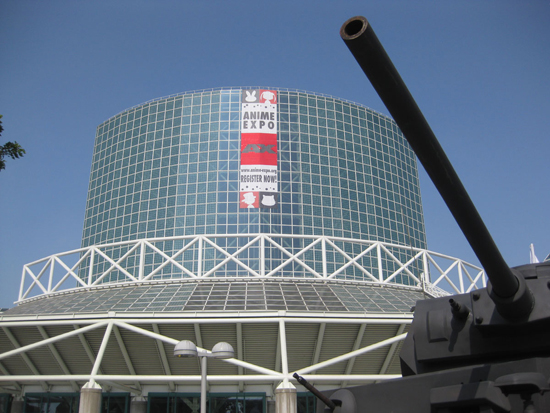 Anime conventions are vast, singular, beautiful, and incomprehensible, a riotous, amorphous celebration of what it is to be a fan of Japanese cartoons and comics.  And across North America, from sea to shining sea, there's no anime convention as vast as Anime Expo, the longest-surviving convention in California (and one of the first anime cons ever, if you count its precursor AnimeCon '91).  I made the pilgrimage west to the anime nerd's temporary mecca at the Los Angeles Convention Center this past 4th of July weekend, and came away with nine distinct things to think about.  Let's check it out!

1) Attack on Titan is basically everywhere now.
As an anime fan, I don't think I've seen a broad, all-consuming sensation this big since Naruto and Fullmetal Alchemist first made landfall in the USA.  Attack on Titan, Hajime Isayama's smart, suspenseful, and goddamned terrifying manga about a medieval human society slugging it out with a ravenous, nearly unstoppable race of giants was bound to make the jump to animation sooner or later, and director Tetsuro Araki's adaptation seems perfect.  Gone is the sluggish pacing and questionable draftsmanship, leaving behind only a taut, engrossing thriller.  The streamlined adaptation of an already popular manga has resonated with fans around the world, and Anime Expo was teeming with hordes of people young and old dressing up in their own homemade 3D Maneuvering Gear.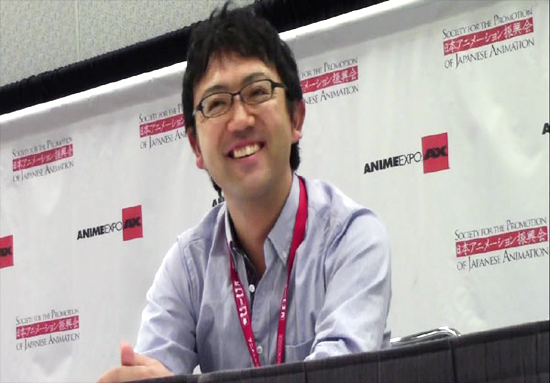 Attack on Titan producer George Wada, smiling as he makes plans to build a solid gold house
Producer George Wada was on hand to screen episodes of his series and talk about the project, which has been undertaken by the fledgling company WIT Studio. Amazingly enough, he had no idea the series had become such a phenomenon overseas. He initially picked the series for adaptation because he liked some of its themes—he sees the struggle of Eren and his comrades to leave their walled kingdom behind and fight for their freedom against the titans as analogous to young people struggling to leave home and enter society.
2) A galaxy of anime celebrities.
Do you like the craft and technical side of anime?  Come and see Gundam Unicorn director Kazuhiro Furuhashi!  Is manga and design more your speed? Then go and meet Haruhi Suzumiya manga artist Noizi Ito.  Voice actors from both sides of the pacific represented at Anime Expo (note the comic stylings of big bald Kyle "Kamina" Hebert above, as well as the disarmingly cute Megumi Han above him, who voices Gon in the super-popular Hunter x Hunter!), as well as a vast procession of musicians, cosplayers, writers, and other pros in the anime and manga business.  The four-day convention allowed fans to hear their favorite stars answer questions at focus panels, get autographs at meet n' greet sessions, and enjoy their new works at premiere screenings and performances.  It's some pretty rare and thrilling stuff!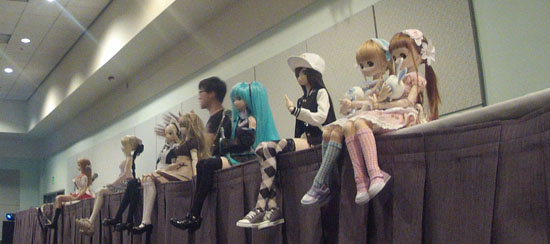 3) Who's Danny Choo?
Is he a camera-hogging otaku living the dream in Japan?  Is he nothing more than the bored scion of a famed fashion company? Is he a smooth-talker with nothing under the hood? Or is he a genuine fan who's turned the stuff he loves into a sustainable business?  I came to Anime Expo with these questions, and managed to get a few answers after taking in anime blogger, presenter, and businessman Danny Choo's focus panel and scoping out the merch booth of his company, Culture Japan.
Choo's been a fixture at AX for a few years, and I'd heard about him before (his tenuous attempt at crowdsource-creating an anime OVA, Chinka, never got off the ground– possibly because he offered no compensation to contributors, only "recognition!"), so I was honestly curious about what this dude had to offer.  His panel didn't reveal many surprises, beyond the chance to gawk at his fabulously detailed collection of ball-jointed dolls and learn about his plans to turn them into robots. (Yes, really!)  But I was genuinely impressed at what he was selling this time– sets of Japanese language-learning flash cards festooned with cutie-pie anime girls, under the self-explanatory titles "Moekana" (for hiragana) and "Moekanji" (for kanji).  That is a great goddamned idea for a product, and the magic worked– on Sunday, I found myself eying a sizable zombie horde of attendees shuffling aimlessly around the Culture Japan booth, long after all the goods had been sold.  Maybe anime girls will finally help me remember my furigana for more than a few hours at a time!
4) Sing along.
I grew up going to all-ages punk rock shows in church basements, but I've noticed something unfortunate– at least around my Boston-based digs, shows like that aren't as common as they used to be. But almost every anime con features a band, or a DJ, or a dance, and Anime Expo had all three of these, many times over.  The main event was courtesy of Japanese arena rockers Pornograffiti, who were such a draw that they performed at the adjacent Nokia Theatre.  That auspicious duo was backed up by the likes of visual kei acts Kaya and Moon Stream, plus producer and dance DJ Ram Rider. Even voiceover artist Jonny Yong Bosch got into the act with his band, Eyeshine.
I love live music, so I'll point out that concerts at conventions like this aren't really ideal.  Sure, the stuff in the theatre is great, but several of the concerts took place in noisy, echoey concrete bunkers that more typically function as banquet halls and expo floors.  But the fact is, there's just nothing like live music, and Anime Expo was full of people excited to go to their first concert.  Your first concert is always special– even when it's at a damn anime con.
5) Buy anime, go broke.
Across thousands of square feet, there's pretty much anything the curious fan of anime and manga could want.  Out-of-print artbooks.  Animation cels.  Model kits.  Costume accesories.  Toys.  Junk food.  Original artwork.  Deeply discounted DVDs and manga volumes, plus flashy exhibits from the likes of Sentai Filmworks, Crunchyroll, and Funimation, keeping fans stoked for the new stuff just coming over the horizon.
Gundam says, "Buy more Gundam!"
I don't have a very long wishlist, but I found stuff from it at Anime Expo, including a signed print from Mazinkaiser SKL designer Tsuyoshi Nonaka.  I've been into this stuff for years, but I still spent a good few hours pacing the halls, staring at Gundam models at the vast Bluefin booth, digging through decades of artbooks and production materials, and haggling for that one volume of Kurokami I don't have (the guy wanted too much for it).  It's always fun to kill some time in the dealer's room, but just make sure you don't spend your food money there.
6) The way of the future for manga
Twenty years ago, the idea of current, popular manga coming out in English seemed impossible.  Ten years ago, Shonen Jump, Japan's most popular manga periodical, debuted in English.  And at Anime Expo, Jump US editor Urian Brown announced sweeping new plans– the magazine's current digital-only iteration is booming, with its day-and-date releases of Japan's biggest hits like Naruto and One Piece cemented over the past year.  Now, Shonen Jump has expanded its online availability to countries all over the world, and is getting set to launch Jaco, a new series from Dragonball creator Akira Toriyama.  As for me, I'm still reeling over the fact that 200 pages of manga appears automatically on my iPad every Monday. The per-week cost? Two bits.
7) It's not all anime. Especially when it's Mega64.
Most of the spectacles of Anime Expo are at least tangentially related to anime and manga.  Even the artist alley denizens and visual kei bands– sure, they may not have a product directly tied to anime, but the band is still from Japan, right?  And the kids hawking their own prints and self-made comics are obviously influenced by manga, so it's all good!  But not everything at AX needs to be that way– sometimes change is good!  And nobody changes things up like Mega64.
Mega64 are a small band of dudes who shot to viral video fame by recreating the mechanics of their favorite video games. You remember the game Paperboy, right?  You played a kid pedaling furiously on a BMX bike, trying to deliver newspapers while dodging dogs, drunks, jugglers, breakdancers, and a variety of other hazards.  Well, these guys recreated that experience in their own sleepy suburb.  In Mega64's world, the terse interrogations of Heavy Rain and superheroics of Batman: Arkham Asylum play out at the local shopping mall, with shoppers playing unwitting extras.  These guys routinely risk arrest to make hilarious stuff, and didn't disappoint at their panel, with a look at new clips, plus their rather loose interpretation of what it means to cosplay.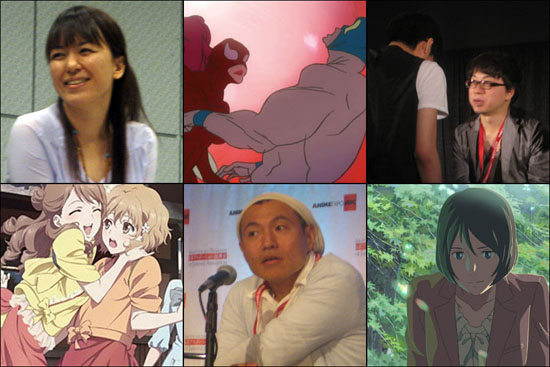 8) See something amazing before anyone else… and then meet the people who made it.
Kazuhiro Furuhashi had the latest episode of Gundam Unicorn.  Maverick director Masaaki Yuasa had Kick-Heart, his new crowd-funded short film.  Screenwriter Mari Okada was in attendance to tout her new film, a movie version of Hanasaku Iroha. The gang at Studio Trigger brought their debut OVA, Little Witch Academia.  And the acclaimed director Makoto Shinkai, of Voices of a Distant Star and 5 Centimeters Per Second fame, was on hand to debut his new feature, The Garden of Words.
Just seeing fantastic new anime in a packed theatre of like-minded fans is pretty great, but the magic is enhanced when the people behind it are right there with you.  Shinkai spoke at length about his emotional state when creating films.  Yuasa explained that everything around him in life inspires him to create anime, and talked about how the idea for Kick-Heart came to him when he read a French comic about a suffering masked hero.  What struck me as particularly neat was Mari Okda, a screenwriter and script doctor who doesn't usually get a lot of exposure to fans.  At her focus panel, she emerged to a room jammed with cheering fans of her work. "I love you all!" she gushed exuberantly.  Given the capacity-crowd screenings and long, long autograph lines, the feeling was mutual.
9) Choice cosplay.
Do I have to explain this part?
This story originally ran in the 8/6/13 issue of the Otaku USA e-News
e-mail newsletter. If you're not on the mailing list, then you're reading it late!
Click here to join.