More Space Dandy Anime Promos Appear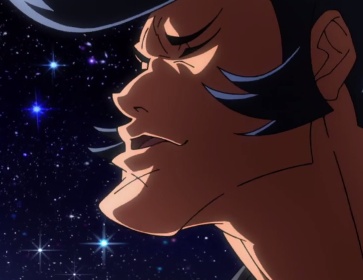 Space Dandy is gearing up for its January 2014 debut in Japan and in America, and Bandai Visual has a preview of the latest from Shinichiro Watanabe (Cowboy Bebop, Samurai Champloo) in a new full promo. The Japanese voice cast is on display in this one, including Junichi Suwabe as Dandy, Uki Satake as the robot QT, and Hiroyuki Yoshino as the dimwitted Meow.
The series also boasts an impressive list of musical artists and creators, including the likes of Yoko Kanno in the former camp and Akira's Katsuhiro Otomo in the latter. See the rest of the list, via ANN, after the promo below.
Musical artists:
Taro Umebayashi
Macra Izumi
Taro Umebayashi
Hiroshi Kawanabe (TOKYO No.1 SOUL SET)
Yoko Kanno
KenKen
kensuke ushio (agraph, LAMA)
ZEN-LA-ROCK
TUCKER
☆Taku Takahashi (m-flo,block.fm)
Mountain Mocha Kilimanjaro
DOKAKA
Noriyoshi Sasanuma (SLY MONGOOSE)
JUNK FUJIYAMA
Hiroyuki Namba (BAOH)
Tomonori Hayashibe
Mito (Clammbon)
Shūtoku Mukai
Fujimaru Yoshino
Latin Quarters
LUVRAW & BTB
Creators:
Kunio Okawara
Thomas Romain
Shinichiro Watanabe
Kazutaka Miyatake
Keiko Nobumoto
Ichiro Okouchi
Masaaki Yuasa
Katsuya Terada
Niθ (Nitroplus)
Goro Taniguchi
Hiroyuki Aoyama
Takanobu Akita
Masashi Ikeda
Kayoko Ishikawa
Makoto Ishiwata (Nitroplus)
Yoshiyuki Itou
Kazumi Inadome
Toshiaki Uesugi
Kimiko Ueno
Emeric Kevin
Toh Enjoe
Katsuhiro Otomo
Tomoaki Okada
Gakuo Okada (Nitroplus)
Masayuki Ogisu
Hiroyuki Okuno
Kiyotaka Oshiyama
Gosei Oda
Yuko Obari
Fumihiro Katagai
Atsushi Kamijo
Tomohiro Kishi
Mantō Kinriki
Takuhito Kusanagi
Chikashi Kubota
Yui Koiso
Rei Kawano
Yumiko Kondō
Satoshi Saga
Ikurō Satō
Dai Satō
Nanami Satō
Hiroshi Shimizu
Tomohisa Shimoyama
Sō Toyama
Fumihiko Takayma (J.C.STAFF)
Shingo Takeba
Shou Tajima
Jun'ichirō Tamamori
Chūnyon
Yuriko Chiba
Shintaro Dōge
Eiji Nakada
Namaniku ATK (Nitroplus)
Hidemori Narita (Kusanagi)
Shingo Natsume
Kōichi Hashimoto
Hiroshi Hamasaki
Akemi Hayashi
Toshio Hirata
Michio Mihara
Masayuki Miyaji
Hisashi Mori
Hayashi Mori
Etsuko Yakujimaru
Sayo Yamamoto
Takaaki Wada
Here's the latest teaser from Toonami, which will be running the show in January, as well: