Katsuya Terada Uses Squid Ink to Paint Huge Squid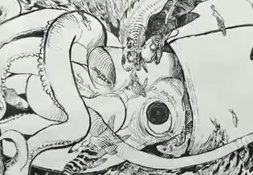 Katsuya Terada is one of the most interesting artists currently working in Japan, at least in this writer's humble opinion. If the name doesn't sound familiar, you may know his work from the character designs used in Production I.G's Blood: The Last Vampire. He also poured his talents into the full-color Monkey King manga and more, so you've probably seen his stuff at some point.
Lately he's been doing some really cool murals, including one for the Kyoto International Manga Museum and another at this past weekend's J-Pop Summit in San Francisco. Below you can watch him at work illustrating a massive life-size squid with squid ink.
The 8000x2700mm piece was created this month, and is on display at Ueno Station Hirokoji.
Via Crunchyroll