Monster Hunter Movie Yanked from Chinese Theaters Over Pun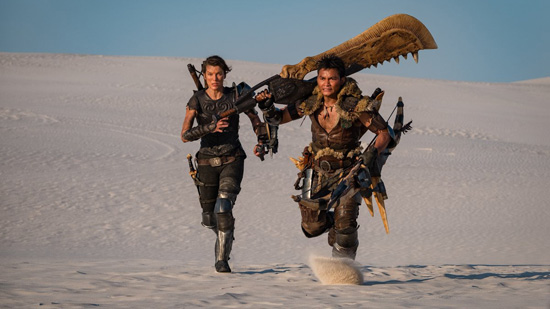 The Hollywood adaptation of Monster Hunter, which is scheduled to be released in America on December 25, has already opened — and been officially ordered to close — in China.
According to Variety, it all comes down to a pun. The character played by Jin Au-Yeung says at one point, "Look at my knees!" Someone else asks, "What kind of knees are these?" Jin Au-Yeung's character replies, "Chi-nese!"
Variety further explained, "To localize the joke, translators made the dialogue a reference to a Chinese colloquialism about how men must have dignity and not kneel down easily."
There was some talk of rewriting the short scene, but it doesn't appear as if that will be enough. Though the Monster Hunter movie was produced by the Chinese company Tencent, websites in China were swiftly full of angry comments, including ones like this: "If there is no severe punishment, in the future others who want to humiliate China will just humiliate China, thinking it's fine to just give those Chinese a version to screen with the insults cut out." Or this: "Hah, so you'd rather cut out the insulting part in the night without banning it outright? Sure, go ahead and help the foreigners save face!"
Online comments arguing the Monster Hunter pun isn't a big deal (which have been a minority) have been censored. Parts of China's Communist government have also come out strongly against the movie.
Source: Variety
____
Danica Davidson is the author of the bestselling Manga Art for Beginners with artist Melanie Westin, and its sequel, Manga Art for Intermediates, with professional Japanese mangaka Rena Saiya. Check out her other comics and books at www.danicadavidson.com.