Manga Review: Gangsta vol. 1
Worick has two jobs: having sex with women and hunting down bad guys. As they say, it's a living.
He and his business partner Nic are known as the Handymen, and they're supposed to take on the nastiest of the nasty people in an already nasty city. Their home of Ergastulum is seething with crime, from forced prostitution to violence against women to theft. Everywhere you look it seems something bad is happening and someone is getting hurt. It's not a place where anyone would want to live, but it's a place where something needs to get done.
The opening story introduces us to a real scoundrel named Barry who forces a 24-year-old woman named Alex to do sex work and then beats her up for not making enough money. While Worick's work in the sex business is shown as hot and kind of funny (women everywhere adore and remember him), Alex's story gives us a glimpse into the much harsher reality of what it's like to work on the streets. Worick and Nic are supposed to take out Barry and his gang, which technically includes Alex. Seeing that Alex is a victim in all this, they instead bring her into the business with them. From there they continue to get various cases. We also get hints of their backgrounds, especially Worick's, which is the most interesting. Figuring out exactly what happened to him and how that led him to be the man he is today promises to be fascinating and is a gripping part of the manga.
Gangsta goes for being gritty and crude, but it doesn't stick with realism, as much as it might think it does. There's a supernatural angle to it we figure out more and more of while we read, and besides, the whole "You're a bad guy and I'm a good guy, so I'll beat you up and make it look easy and get revenge for everyone you hurt" isn't exactly something we see going on so much in real life. It's the idealized vigilante fantasy, basically; the revenge fantasy where everything works out. From the point-of-view of story in the purely aesthetic sense, it works just fine and indulges readers in their desires to take down harmful people. From the point-of-view of knowing what these things are like in real life (forced prostitution, violence against women, etc.), it can be a little unsettling how the story seems to simplify serious issues and turn them into slick revenge stories. It kind of depends on how one approaches the manga.
Story & Art: Kohske
Publisher: VIZ Media
---
Related Stories: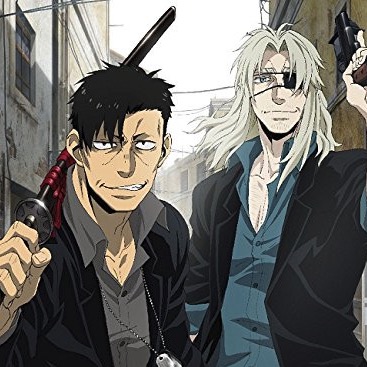 Gangsta. Anime is Off to a Strong Start
Manga adaptation kicks off in style
Gangsta is a new show this season based on Kohske's manga of the same name. The series stars Nicolas Brown and Worick Arcangelo, two "handymen"…
Gangsta. Offers Shootouts and Swordfights in the Seinen Style
Gangsta. was one of Manglobe's latest
The years in which the animation studio Manglobe focused on creating titles originally conceived as anime series, such as Samurai Champloo...
Gangsta. Manga Goes on Hiatus
Author Kohske suffering from ill health
Gangsta., the definitively-punctuated manga recently adapted into an anime series, is going on hiatus due to author Kohske's poor health…
Studio Behind Samurai Champloo Declares Bankruptcy
Gangsta. was one of Manglobe's latest
Hot on the heels of this season's run of the Gangsta. anime comes some disappointing related news. The rumors had been churning for much of the week…