Male Cosplayer Becomes Mai Shiranui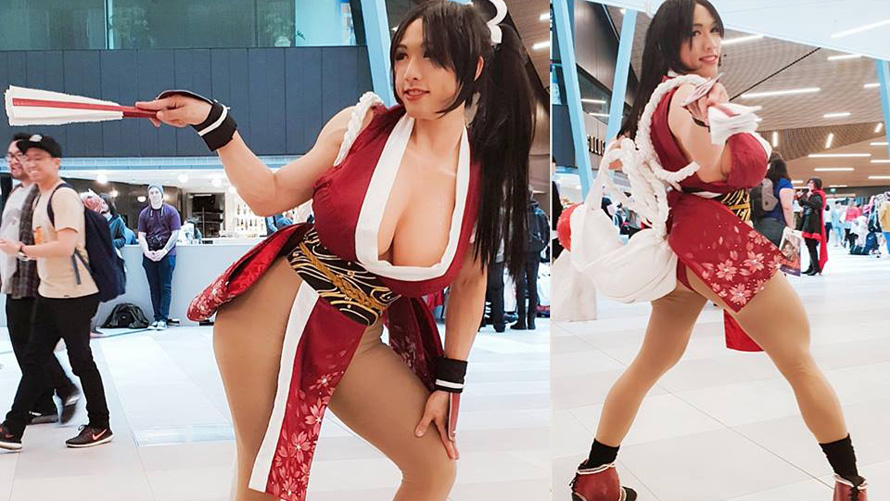 Fighting games in the 90s were often joked about for the gratuitous proportions of their female cast members, but SNK's Mai Shiranui was arguably THE most notorious. Her hand-drawn bouncing cleavage in the King Of Fighters games and anime outings like Fatal Fury: The Motion Picture made her a lasting fan favorite even before 3D series like Dead or Alive made "boob physics" a ubiquitous technical term in game magazines.
With Mai's proportions becoming evermore larger-than-life with each successive KOF entry, one would assume that a spot-on Mai cosplay would be difficult most women to pull off, and downright impossible for a man. However, last week at Madman National Cosplay Championship in Brisbane, Australian cosplayer Ameno Kitarou (a.k.a. Wirru) proved that nothing is impossible if you have the right crafting skills.
The center piece to Wirru's costume is a silicone chest piece (breast plate?) cast from a plaster mold. He says he was able to find the right blend of pigments to match his skin tone without makeup blending. In an impressive feat of form-meets-function, he demonstrates in this video that the silicone piece doubles as a storage place for accessories like Mai's fans, 8 oz. water bottles, and snacks.
Unlike Reika Saiki, who attained her Chun Li thighs through good old-fashioned exercise, Wirru used custom-built hip pads hidden under stockings to match the lower-half of Mai's hourglass figure. He wove extra-large rope to recreate the giant bow on Mai's back, and hand-painted sakura flowers onto the fabric using holographic paints. Tutorials detailing each step of the project are available on his Patreon page.
According to Wirru, his Mai costume miraculously did not place at MMNC this year. Since he already seems to have won the event in 2010 and 2014, perhaps the judges have decided to let other people win for a change. Believe it or not, Mai's knockers are actually far from the largest anatomical props Wirru has put on, having cosplayed such ambitious figures Final Fantasy 10's massive dragon Bahamut, alien hybrid Shiraui Tsumugi from Knights of Sidonia, and Pokemon's spiked mollusk Cloyster. His ability to craft anatomy for non-human characters definitely rivals Polish cosplay Sosenka, who we reported on last year. To see more of his work, check out his pages on Instagram, Facebook, and Patreon.
Source: Kotaku