Lupin Takes on Detective Conan… Again
Lupin III. Detective Conan. One's a master thief, the other a genius detective trapped in a child's body. Both wildly popular characters who, in 2009, ended up starring together in a TV special titled Lupin the 3rd vs. Detective Conan thanks to the delightful coincidence that both characters' shows are produced by Tokyo Movie Shinsha (TMS), and, I mean, why the heck not, right? TMS already puts out Lupin TV specials once a year, so it must have seemed like a natural idea to combine the two.
Well, after 2012's flawed, risky The Woman Named Fujiko Mine TV series, which focused on the eponymous femme fatale of the Lupin-verse to mixed results, TMS appears to be ready to return to the safety and security of the Sure Thing: a movie version of Lupin vs. Detective Conan.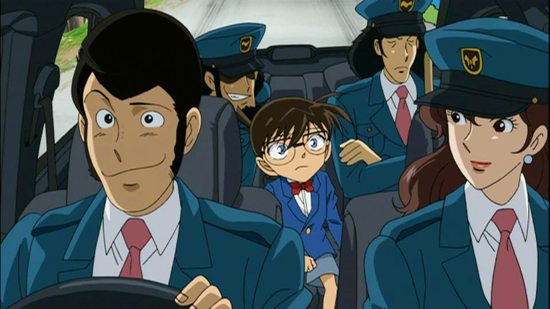 Announced back in April, a poster attached to the most recent edition of Shogakukan's Weekly Shonen Sunday reveals that the film is scheduled to be released in Japanese theaters on December 7. This is after reports came out in May describing the general tone of the movie as being considerably darker and more confrontational than the TV special.
That sounds like a good thing to me. But what do you think? Is this an idea worth revisiting? Let us know in the comments.
Sources: Anime News Network, animeanime.jp
This story originally ran in the 6/27/13 issue of the Otaku USA e-News
e-mail newsletter. If you're not on the mailing list, then you're reading it late!
Click here to join.