Keijo!!!!!!!! [Anime Review]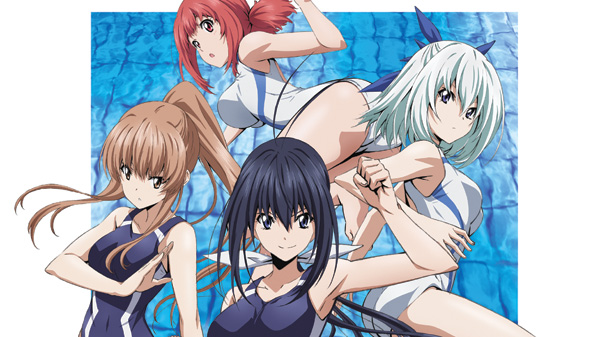 "Keijo" is a sport wherein women wearing bathing suits use naught but their breasts and buttocks in battle to push competitors over the edge of a land—a large float—and into some surrounding body of water. The sport itself is fictional … thankfully, but the tension is real(ly funny) in Keijo!!!!!!!! (alt: Hip Whip Girl).
Eighteen year-old Nozomi Kaminashi, motivated by cash prizes, really wants to become a professional keijo asslete in order to help her family out of poverty, but she has a long road ahead of her. While attending Setouchi Keijo Training School, Nozomi will have to work her butt off both in the classroom and on the training grounds against fellow students, accomplished teachers, and even professional keijo players.
Taking advantage of animation production by Production I.G. subsidiary Xebec, director Hideya Takahashi adapts Daichi Sorayomi's comedic shonen manga to reap laughs at almost every turn. The very concept reeks of titillation, yet the execution provides pure over-the-top comedy by constantly outdoing its own outlandishness. (And what a feat that is!)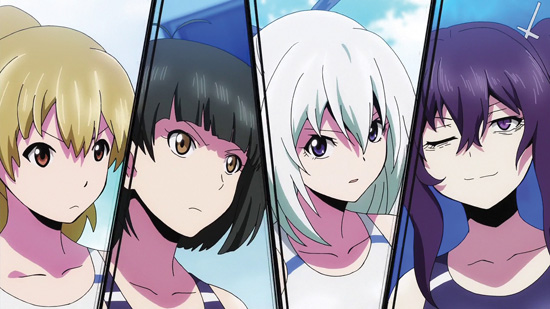 The absurdity of the sport begs an air of exploitation, and the camera brings it … hard. So hard, in fact, that it's impossible not to laugh at how in-your-face all the keijo players' assets are. Then there's the absurd training regimen of posterior-prioritized exercises and punny classroom lessons. THEN there are ridiculously named and animated keijo techniques, unique to each player, that never seem to stop one-upping each other in effect or visualization. Even the swimsuits, by ranging from practical one-pieces to frilly bikinis to exoskeletons, elicit giggles for their contrasts in style and benefits. Conversely, the diverse land designs are amazingly economical for their functionality.
If there was only one float design, the matches would quickly suffer background banality. Thankfully, the range of designs and capabilities for the buoyant battlegrounds offers enough character to competently carry the training and competition scenes. Balance beam grids, integrated fountains, and more not only keep the visuals fresh but also mandate different means of attack by the keijo players. This, combined with everything noted above, is why this show is such a fun and consistently enthralling watch; the "what will it do next" factor is too a great a force not to heed.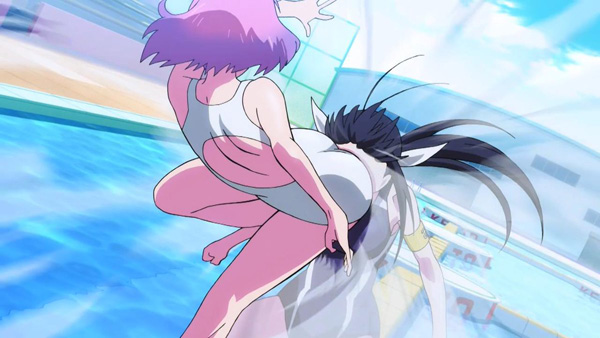 This accomplishment, however, is unfortunately most recognizable in contrast to the thankfully rare (but woefully present) instances of trope-ish pandering to cis male gaze-oriented yuri fetishism—unwarranted boob fondling, the super-flirtatious lesbian letch, etc. When these all too familiar scenes (I can't even call them gags for all their staleness) play out, viewers might feel washed over with a general feeling of disappointment. It's not just that we've seen this kind of behavior in a billion different anime, it's that that banality so obviously clashes with the rest of a truly fun show.
Somewhat applause-worthy, however, is the inclusion of Nagisa Ujibe, a former sultry keijo player turned portly expert instructor. The body type variance her character brings is greatly appreciated. While she's mocked initially for her size, her students come around real fast to her prowess as a keijo player. She also has a decent emotional roundness to her that negates the typical drill sergeant instructor stereotype.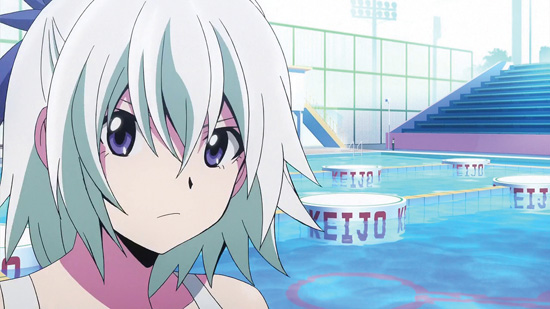 So how might someone who generally finds fleshy fan service in poor taste and who is typically not a fan of shonen fighting shows come to claim Keijo!!!!!!!! as one of his favorites from the Fall 2016 season? Sure, the show centers around a sport that involves women with exposed flesh thrusting and lunging for an eager camera, but gaze pandering is negated by an oversaturation that begs to be labeled as self-mockery. Also, it's just plain inventive! I'm a sucker for extended metaphor, and while far from poetry in motion, the versatility regarding the range of special techniques, as well as the drama each is imbued with, is as impressive as it is humorous.
studio/company: Crunchyroll/FUNimation
available: Now
rating: TV-MA