Kakegurui Spinoff Manga Kakegurui Twin Lands Live-Action Series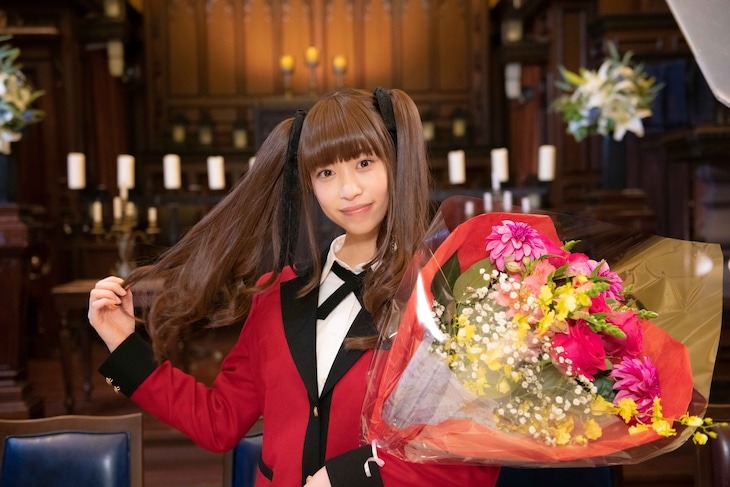 There's more live-action Kakegurui on the way! Kakegurui Twin, a manga spinoff of the original Kakegurui, will be getting the live-action treatment in 2021.
A prequel to the original, it'll star Aoi Morikawa as Mary Saotome. Morikawa also played Saotome in the original live-action version.
Also returning are directors Tsutomu Hanabusa, who helmed the live-action Kakegurui film, and Shinya Nagano, who helmed the TV series.
Morikawa commented that she's gotten older since the original Kakegurui, but since this is a prequel, she'll try hard to play the character younger without the audience feeling anything is off.
A second Kakegurui film is also on the way in 2021.
Here's how Yen Press describes Kakegurui Twin:
A year before Yumeko Jabami graced the hallowed halls of Hyakkou Private Academy, Mary Saotome got her own start at the gambling-addicted school. Can this normal girl achieve her own rags-to-riches story through wits and luck? Find out in this prequel to the mega-popular Kakegurui!
And here's our review of the manga!
Meanwhile, here's how Yen Press describes the original Kakegurui:
Hyakkaou Private Academy. An institution for the privileged with a very peculiar curriculum. You see, when you're the sons and daughters of the wealthiest of the wealthy, it's not athletic prowess or book smarts that keep you ahead. It's reading your opponent, the art of the deal. What better way to hone those skills than with a rigorous curriculum of gambling? At Hyakkaou Private Academy, the winners live like kings, and the losers are put through the wringer. But when Yumeko Jabami enrolls, she's gonna teach these kids what a high roller really looks like!
Source: Comic Natalie