Japanese Crowdfunding Grows Up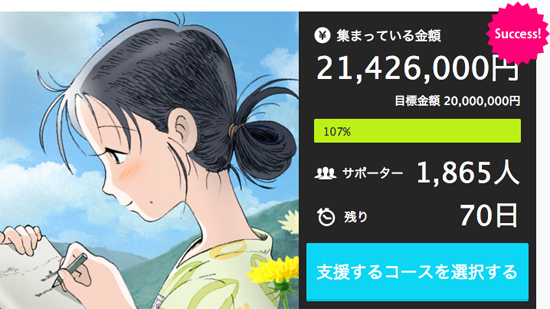 Japanese crowdfunding has grown up.
While the earliest successfully-funded anime (Little Witch Academia 2, Kick-Heart) were financed via America-based Kickstarter, recent months have seen Japanese crowdfunding sites play a bigger role in anime projects.
Case in point: In This Corner of the World, the World War II-era anime film being animated by Mappa and directed by Sunao Katabuchi (Black Lagoon). As we reported yesterday, In This Corner of the World's crowdfunding attempt, hosted by Japanese site Makuake, was announced 10 days ago but has already reached its 20 million yen (approx. $180,000) goal.
The site will remain active for 71 more days, and contributions continue to be accepted, with the goal currently at 106%.
A quick look at the numbers: at the time of this writing, with 1,834 backers, the average contribution is around 10,000 yen ($80). Six contributors have gone for In This Corner of the World's 300,000 yen (approx. $2,500) option, which gets your name into the credits.
Compare that to 2012's Kick-Heart Kickstarter, which raised a similar amount of money, but had 3,232 backers for a smaller average. Last year's Under the Dog, which raised more money, also had a smaller per-backer average.
Meanwhile, question marks abound over at another Japanese crowdfunding project. You may recall the project launched back in late January to send to the moon a small replica of the Spear of Longinus from Neon Genesis Evangelion.
That project, which is being hosted on crowdfunding site Readyfor, got off to a great start, earning over 34 million yen in just a few days.
However, the project has been largely stalled out since then. It's currently sitting at 38 million, 38% of its goal, with 17 days remaining. If the project fails, all the money will be returned to the backers.
The project is also the subject of some controversy, since the Spear of Longinus is not simply an anime prop but an actual religious symbol, which may cause offense if placed on the moon.
Regardless, while the Spear of Longinus project may have aimed too high (literally for the moon!), an investment of 38 million yen further proves Japanese crowdfunding has made leaps and bounds.
Indeed, the anime crowdfunding landscape has changed dramatically in a short amount of time. Does anyone remember earlier efforts like Anipipo (currently on hiatus) or Anicool (currently non-existent, apparently)?
But now that Japanese crowdfunding sites like Makauke and Readyfor have taken off, one question for U.S.-based fans is whether any future anime projects will use Kickstarter. One frequent complaint about crowdfunding sites is lack of international interoperability: it's impossible to create a Makauke account without a Japanese address, for example, making contributions to In This Corner of the World infeasible.
A side effect of this potential move away from Kickstarter is a loss of projects aimed at a western audience. Kick-Heart, by auteur director Masaaki Yuasa, was anything but a typical modern anime, and Under the Dog, another successfully Kickstarted project, was specifically aimed at the western audience that embraced properties like Ghost in the Shell.
What's the future of anime crowdfunding? Are you afraid of losing your voice as a backer as projects move off Kickstarter? What kind of projects would you like to back? Let us know.
---
Related Stories:

– Space Dandy Card Game Successfully Crowdfunded
– Under The Dog Undergoes Creative Shakeup
– Cannon Busters Kickstarter Summons Anime Talent
– Masaaki Yuasa's Kick-Heart: Staff Interview
– Little Witch Academia/Anime Mirai Exhibition