Hayao Miyazaki Delivers Eulogy at Isao Takahata Farewell Ceremony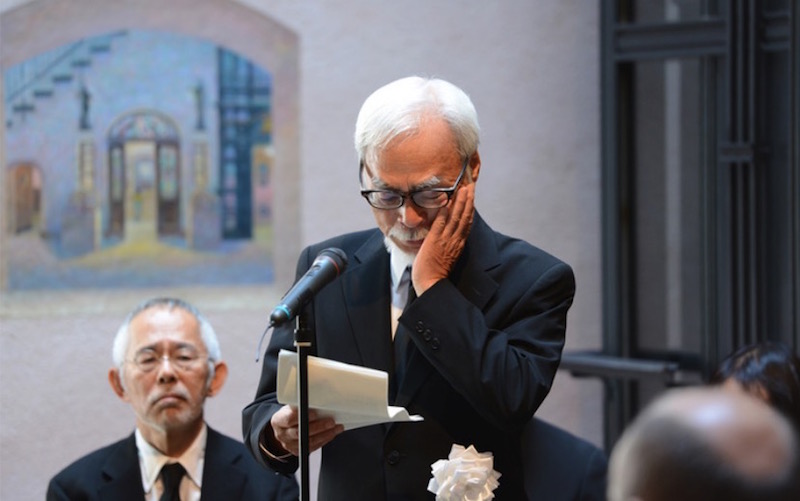 Revered Studio Ghibli co-founder and director Isao Takahata passed away last month at age 82, and the staff of his studio gathered to remember the late creator at a farewell ceremony. The ceremony was held on Tuesday at the Ghibli Museum, where Hayao Miyazaki shared his own fond recollections in a heartfelt eulogy.
Miyazaki referred to Takahata using his "Paku-san" nickname throughout, which came about as a result of how quickly he ate breakfast while working at Toei. "Paku-paku" was the sound of Takahata hurriedly chewing food and gulping down water each morning. Miyazaki was 22 and Takahata was 27 when the two first met, and Miyazaki remarked upon how "calm and wise" Takahata seemed even at that moment.
On Takahata's passing, Miyazaki said, "I was convinced that Paku-san would live to be 95 years old, but he, unfortunately, passed away … It makes me think my time is also limited."
Miyazaki went on to talk about the time Takahata's doctor pleaded with Miyazaki and producer Toshio Suzuki to get their friend to quit smoking. While Takahata apparently did quit at some point, he eventually died of lung cancer. Miyazaki closed his eulogy out by giving thanks to Takahata for talking to him on that day, 55 years ago, at the bus station.
Other attendees that offered parting words included composer Joe Hisaishi, animator/character designer Yōichi Kotabe, animator Yasuo Ōtsuka, and The Red Turtle director Michael Dudok de Wit.
Source: Mantan Web via Kotaku