Ghost in the Shell ARISE: Ghost Pain review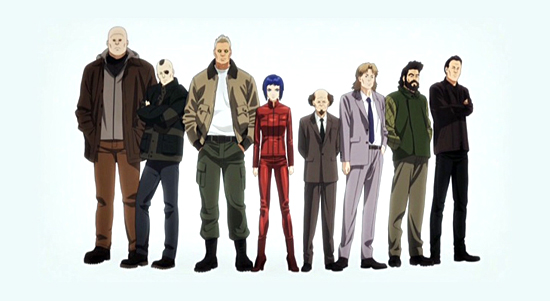 Why is the animation quality of the Ghost in the Shell franchise evolving in reverse?
The original Ghost in the Shell film, released in 1994, was and remains a stunning, fluid piece of animation with both characters and backgrounds alike packed with detail, nuance and depth.
Two decades later, Arise, in comparison, is flat, motionless and dull.
Okay, okay, so it's not exactly fair to compare an ultra-high budget theatrical motion picture to a direct-to-video release. Granted. But it is entirely fair to compare Arise to Stand Alone Complex, the earlier small-screen Ghost in the Shell adaptation. And despite being 10 years older, I'll put any shot from SAC up against Arise any day.
It's not just the animation quality that doesn't stack up, it's the direction. The original film (and its sequel, Innocence) were directed by the peerless Mamoru Oshii; Stand Alone Complex by his protege, Kenji Kamiyama. Arise's director, Kazuchika Kise, has a long association with the franchise as a key animator all the way back to the first film. But a good key animator isn't necessarily a good director: most of the shots here are very pedestrian.
Look – Arise doesn't look bad, but it does look like a normal episode of anime in 2013, and a prestige brand like Ghost in the Shell deserves more, don't you think?
For those not in the know, Arise is a prequel to everything that's come so far in the Ghost in the Shell-verse, showing how the Section 9 we know and love came to be. It's being produced as a series of four, hour-long straight-to-video releases.
For this run, they've decided to replace the longstanding voice cast. Maaya Sakamoto, best known for Escaflowne, takes over from Atsuko Tanaka, who's been playing the major since the original film, and basically does a really great Atsuko Tanaka impression. If I hadn't known about the cast change, I'm not sure I would've had a clue.
That's not true for the rest of the cast, who sound quite a bit different from their veteran counterparts. Yes, Arise is a prequel, so the characters are younger, half of Ghost in the Shell's characters are cyborgs. Why would their voices be different – especially Batou, who's in the same body? (This is an opportunity for the American release to be superior to the Japanese one, provided Funimation has the good sense to bring back the Stand Alone Complex cast).
For that matter, why does Kusanagi look younger? After all, she can choose any body she wants – simply choosing a slightly older looking body every few years doesn't strike me as the major's style – rather, it feels like a simple failure of imagination.
And lack of imagination abounds in Arise. With this film, Ghost in the Shell has officially become overburdened with its own tropes.
The opening shot is a pair of helicopters flying over a futuristic city. There's a Tachikawa with a squeaky voice. A surprise moment thanks to thermo-optic camouflage. A scenario in which the major must pry open a hatch, straining her super-strength cyborg arms.
You get the idea. The problem is, these tropes don't add to the story: they're simply there to tick off the Ghost in the Shell checkboxes.
Gang, I'm sorry I don't have a whole of good things to say about Arise. I'm a huge fan of this series, and I really wanted it to be good. The silver lining is that this is the first of four parts: things have plenty of time to pick up.
This story originally ran in the 6/27/13 issue of the Otaku USA e-News
e-mail newsletter. If you're not on the mailing list, then you're reading it late!
Click here to join.