Fans of Japanese Idols and Bouncy Tunes Will Find Much To Love in Wake Up, Girls!
Sugar and spice and everything nice, that's what little girls are made of. If that's the case, what then are teenage girls made of? And what must they be to become idols? That's the million dollar question in Wake Up, Girls!, the new idol-themed franchise from anime studio Ordet.
Green Leaves Entertainment, a Sendai-based talent agency, has lost its last client. This comes as no great surprise. While Sendai is the largest city in Japan's Tohoku region, it may as well be the sticks as far as aspiring stars are concerned. But in the midst of bemoaning Tokyo siphoning away their talent, company president Junko Tange, a brash, abrasive woman of questionable ethics, catches a glimpse of Japan's top female idol group, I-1 Club, and a plan is hatched. Will this last ditch effort to stay afloat pan out or is Green Leaves Entertainment dead in the water?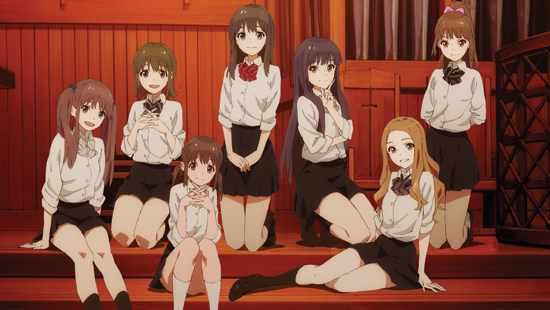 This turning point is precisely where the Wake Up, Girls!: Seven Idols film begins. In an unusual move, Wake Up, Girls! made its debut simultaneously on TV and in theaters, down to the exact day. Seven Idols serves as a prequel to the television series—not absolutely required but highly advised for full understanding of the journey leading up to the first episode. The show recaps the film sufficiently enough, and, truthfully, there isn't a great deal to recap, considering the movie clocks in under 60 minutes, feeling more like an extended episode, right down to the lack of a noticeable difference in production values.
In addition to President Tange, we are introduced to her meek underling Kohei Matsuda in Seven Idols. Young and inexperienced, Matsuda approaches his managerial position with a touch of trepidation, to say the least. His lackadaisical, haphazard method of client acquisition results in the brunt of the responsibility falling on Tange's shoulders, but given her connections, she makes short work of picking up the slack. In his talent scouting, Matsuda does, by pure chance, encounter a girl with a very special aura—an aura that sparks a fire in Matsuda's heart to create an idol group that will uplift all who listen. The only problem? Said girl, Mayu Shimada, wants absolutely nothing to do with being an idol.
But as they say, the show must go on. Between Tange and Matsuda's efforts, six girls audition to join the Wake Up, Girls! group, and with little concern regarding talent, or lack thereof, all six are accepted. After all, as Tange remarks, they'll need at least that many to form an idol group. It's at this time that we meet our stars. Nanami Hisami—the youngest of the bunch, a haughty girl trained in the fine arts. Airi Hayashida—a gentle girl who isn't particularly talented or confident but wants to give it the old college try nonetheless. Kaya Kikuma—the oldest girl in Wake Up, Girls! who, after a string of lousy, degrading part-time jobs, is simply looking for better opportunities in life. Miyu Okamoto—a bubbly crybaby already accustomed to the limelight at the hole-in-the-wall maid café in which she works. Yoshino Nanase—a serious-minded local child star/model, perfect for leading Wake Up, Girls! as its captain. And finally, Minami Katayama—an award-winning vocalist with a radiant personality. With the talents and dispositions of these six combined, they are Wake Up, Girls!
Despite their distinctions, don't be surprised if it's a challenge to differentiate the girls early on. With only slight variations in appearance, it's their personalities that truly make each girl stand out, and while this would be a flaw in character design under normal circumstances, in Wake Up, Girls!, the similarities cleverly emphasize the intentionally homogeneous look for which idol groups typically aim.
So they've got the girls and they've got the image, but … something is missing. With each girl coming from a totally different background and mind-set, Wake Up, Girls! struggles for cohesiveness. Worse yet, Green Leaves Entertainment barely has two nickles to rub together, so landing the next big break comes all the more difficult. If only there was a central figure who could properly unite the group and draw the public's attention, and, wouldn't you know it, Airi just so happens to be Mayu Shimada's friend …

Unfortunately, a little something is missing in the visuals of Wake Up, Girls! as well. While by no means bad, character art has its occasional awkward moment, and the backgrounds are often dull. The animation truly shines only during the concerts, granted this contrast helps these key scenes pop all the more. One has to wonder if production woes are keeping Wake Up, Girls! from being all that it can be. According to director Yutaka Yamamoto, the animation staff is overwhelmed and overworked, and a desperate plea was posted on Twitter to recruit additional animators. Time will tell how this issue will ultimately affect the franchise.
No complaints can be laid against the audio work heard in Wake Up, Girls!, however. In conjunction with voice talent management firm 81 Produce, open auditions were held to discover new talent, and out of over 2,000 young women who competed for the parts, the top seven were selected. Blurring the lines between fiction and reality, the real-life Wake Up, Girls! share their first names with their fictional counterparts, and the episode previews in the TV series are straight from the recording booth. While the background music of the franchise is orchestral, the real-life Wake Up, Girls! also perform the j-pop numbers heard during the opening, credits, and mid-story performances, most notably their catchy debut song, "Stand Up!"
Those who have a soft spot for Japanese idols and bouncy tunes will find much to love in Wake Up, Girls!, but the best aspect of this franchise is how grounded it is. If a purely saccharine success story is what you seek, Wake Up, Girls! won't fit the bill, but it does offer a realistic window into the highs and lows of pursuing a career in entertainment. Grin over their accomplishments, frown over their misfortunes, but, most of all, stand up and cheer!