Evangelion merchandise hands-on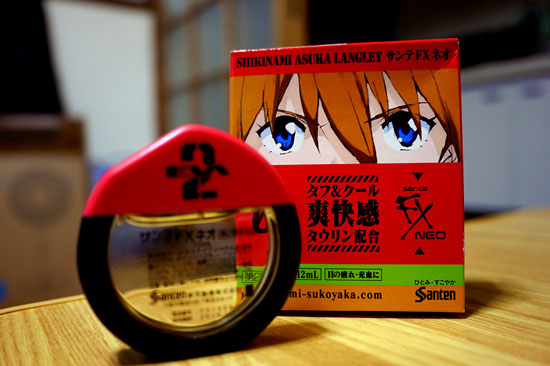 It seems like not a week goes by when we don't feature an article about some new Evangelion merchandise. Hey, we'll stop reporting on it just as soon as they stop making the stuff (but considering it's been coming out in a pretty much constant stream since 1994, don't expect that to happen anytime soon).
This week, we decided to get down and dirty in the Tokyo trenches and try out some of the latest Eva-branded merch, which involved an artery-clogging, nine-patty hamburger, stale coffee, and putting some pretty strong liquid directly into our eyeballs. Don't say we never did nothin' for you, dear readers.
Stop one was hamburger chain Lotteria, a burger chain known to run the occasional anime tie-in promotion and for its "customizable" burgers, which allow extra-hungry customers to pile the patties high.
Some brilliant marketer decided to combine those stacks of meat and the fact Evangelion's Lance of Longinus kind of looks like a fork into what they've dubbed the Q burger – Evangelion Q being the Japanese title of the film (or one of 'em, anyway) and nine being pronounced "kyu" in Japanese (that's why the title of Haruki Murakami's bestseller 1Q84 is kind of clever in its original language and pretty awkward in English, incidentally).
Anyway, you guessed it: the Q burger features nine patties between its buns, all stuck together by a plastic Lance of Longinus. In the ad, anyway. In reality, it comes on the side in a plastic bag – no doubt easier for collectors than trying to remove all the cheese before exiting the shop.
Eating this beast was one serious endeavor. Ultimately, your editor had to call in help from a fellow Evangelion/hamburger fan, and much like Shinji and Asuka in the seminal episode "Both Of You, Dance Like You Want to Win!," we were able to rout the enemy using a carefully timed attack.
Next on the menu: Evangelion-branded coffee. This canned coffee, which came out around the film's theatrical premiere, was produced by UCC, who also have tie-ins within the films themselves, starting all the way back with 1997's End of Evangelion.
UCC appealed to collectors here by offering several different can designs, forcing completists to shell out for multiple cans – six in total. Predictably, by the time we got to buying one, the only remaining option was the Shinji can. Guy just can't catch a break.
Did we mention these debuted around time of the theatrical premiere? Drinking a can several months after the fact probably wasn't the brightest idea we've had here at Otaku USA Japan HQ. As we clenched our stomachs in pain, we found ourselves uttering the same words as Asuka, lying on the LCL-soaked beach at the end of End of Evangelion: "disgusting."
Hamburgers and coffee movie tie-ins are familiar enough in the States, but this next one is pretty unique: Evangelion-brand eyedrops. The pharmaceutical company Santen creates an eyedrop called Sante FX geared toward workers who have to stare into computer monitors all day, and they partnered with Studio Khara to bring out an Evangelion version. Hey, your eyes get pretty dry marathoning all that anime too.
These eyedrops originally, uh, dropped before the theatrical premiere, and their commercials were actually one of the first opportunities to see some footage from the film. Now that the DVD and Blu-ray is out, they've brought back the drops.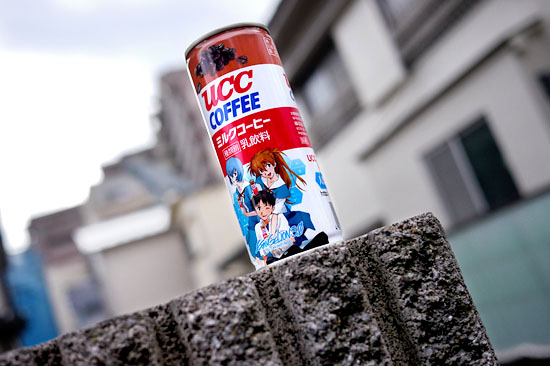 There are four boxes in total: Asuka, Rei, Shinji and Kaworu. Weirdly, though they have the same ingredients, Asuka's version left us smarting as we'd been brutally insulted, while Rei's left us feeling strangely empty, and Shinji's made us weep for hours.
(Seriously, though, if you're thinking about importing these, know this: Japanese eyedrops are not for the faint of heart. Yow.)
By the time we'd gotten home from this Eva-filled day, we'd developed quite a five-o-clock shadow. And wouldn't you know it, there's an Evangelion-branded razor for that.
This story originally ran in the 5/14/13 issue of the Otaku USA e-News
e-mail newsletter. If you're not on the mailing list, then you're reading it late!
Click here to join.
For more on Evangelion tie-ins and merchandise, check out these stories:
– Evangelion 3.0 Promotion Continues Apace
–
Evangelion invades fashion capitals Shibuya, Harajuku
–
Department store Lumine promotes Evangelion 3.0
–
Hello Kitty's Latest Collabo is with Evangelion
– Let Me Play (Eva Games) Among the Stars