Can a mascot exist without its brand? Super Sonico answers…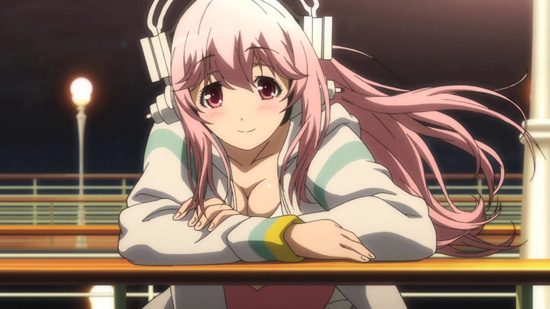 What would Disney be without its mouse ears, Nintendo without its portly plumber, or McDonald's without its cholesterol-coated clown? Well, okay, these are major corporations here which could surely survive without, but what about the reverse scenario? Can a mascot exist without its brand? Can a mascot be a mascot of itself? The phenomenon of the virtual idol answers with a giggle and a resounding "hai!"
Our titular character, Super Sonico, was brought into this world in 2006 as the icon of game developer Nitroplus' "Nitro Super Sonico" annual live music festival. But like the tremendously popular android diva Hatsune Miku, who spearheaded the success of Vocaloid software and its derivatives, Super Sonico has taken on a life of her own. Now, in 2014, thanks to the efforts of animation studio White Fox, who have collaborated with Nitroplus prior on the anime adaptation of their visual novel Steins;Gate, Super Sonico has evolved from spokeswoman to television star in Super Sonico: The Animation!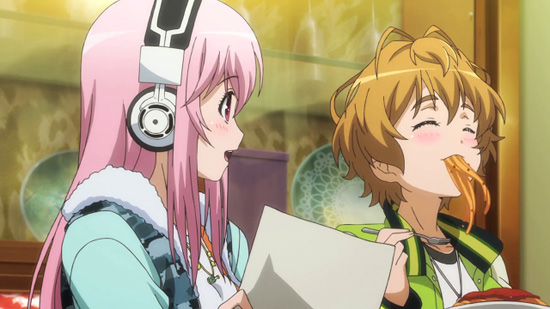 So who is Super Sonico? From the moment Super Sonico: The Animation, oft abbreviated as Soni-Ani, begins, we learn that our pink-haired protagonist is a girl with an impossibly busy life. As a model student of marine biology at Musasaka University, a model … model for a talent agency that manages gravure idols, a cheerful waitress at her grandmother's homey, old-fashioned restaurant, and the guitarist/vocalist in the all-girl, three-piece local rock band, First Astronomical Velocity, Super Sonico wears many hats on top of her ever-present studio headphones, and she somehow manages it all with exuberance and a bright smile. Not so much grace, as she does have a slight awkward, clumsy streak, but this only heightens her moe appeal.
Unlike the waif-like middle and high school girls commonplace in today's anime, however, Sonico and her close friends are of college age or older, and they have the developed bodies to match. With Sonico boasting an hourglass figure that's the envy and eye-catcher of town, fan service is a significant component of Soni-Ani, but the show isn't nearly as ecchi as one would expect based on the early promotional materials. The reality is that Sonico is actually a rather shy, modest girl when left to her own devices, but her unwavering desire to help and please others often places her in compromised positions.
Luckily for Sonico, no one is genuinely out to get her. Soni-Ani as a whole is lacking in conflict. The largest problems Sonico face include her tendency to oversleep that necessitates a morning cacophony of four alarms and five hungry cats to get her going, skeevy-yet-harmless magazine editors who propose racier spreads than initially approved, and overbooked schedules that take some finagling to sort out. And whenever one of these minor crises pops up, it's just as quickly resolved thanks to a supporting cast that literally exists just to support.
That's not to say that there is no value in said supporting cast. While Soni-Ani isn't a riot a minute, it does offer its fair share of laughs, and much of these come from the unsaid, specifically involving the lesser characters. Why does no one ever comment on Super Sonico's bizarre name? Why is Sonico's manager, Kitamura, forever sporting a traditional Japanese oni mask? What's up with Sonico's fellow gravure idol, Ouka Satsurikuin, who appears to be a GothLoli pirate robot maid all wrapped up in one?
Additional sources of comedy are Sonico's bandmates, Suzu Fujimi and Fuuri Watanuki, the headstrong leader/bassist and mellow drummer, respectively. Between Suzu's endless harebrained schemes to promote the trio and Fuuri's perpetually unsatisfied appetite, Sonico has her hands full, just as she does with the rowdy local business owners who frequent Zeppelin Bar. But no worries, saucy Grandma Leila, who was the spitting image of Sonico back in her day, always has a sneaky trick up her sleeve to set the guys in line when they get a bit too fresh with her grandbaby.
That, in a nutshell, is the world of Super Sonico. There is no defined plot, and everything is a little too perfect. This is slice of life with truly segmented slices, as each episode is its own isolated, easygoing escapade. Even as a year passes, the plot never advances anywhere; the characters and their lives stay essentially the same, outside of some forgettable, one-off guests choosing to move in new directions. As the show proceeds, we do slowly learn more about Sonico's younger years, as it's revealed how she came to join the band, how she acquired her beloved guitar, why she began modeling, among other details, but all of this personal growth is past tense.
What substance the story may be lacking is made up in spades in the show's presentation. One would likely assume that an animated series based on a virtual idol would focus wholly on character designs, and while the girls are certainly easy on the eyes, a surprising amount of care has been paid to the scenery. Vibrant summer mornings, glistening ocean waters, rich vermilion sunsets, and the iridescent glow of city lights at night are all portrayed lovingly.
Further reason to linger on the surroundings is in the fact that Soni-Ani doesn't have background characters idle like cardboard cutouts; those not actively involved in a conversation amusingly fidget and fuss. Established fans of Super Sonico, already familiar with seeing their busty beauty bouncing about in 3D, will appreciate the inclusion of CGI renderings of Sonico and company, which are occasionally blended in mid-show but most notably featured in the closing credits. Befitting of Sonico's musical history, each episode concludes with its own unique music video, so those who adore anime vocal themes should be on cloud nine with the ever-expanding catalog of catchy pop/rock tunes, bolstered by the sporadic mid-episode gig.
It wouldn't be unfounded to go into a production like Soni-Ani with some degree of skepticism. After all, Sonico did indeed get her start as a mere mascot. So, does Soni-Ani boil down to simply an elaborate commercial for Sonico goods and Nitroplus as a whole? Subtle references to Nitroplus properties aside, Soni-Ani, thankfully, aspires to more. The lack of difficulty in Sonico's life results in a show that is equally unchallenging for its viewer, but those who could use a dose of feel-good fun will find that smiles abound