Super Sonico Sings Her Way to Blu-ray This Month
Featured Spotlight

She started her life as a mascot for game developer Nitroplus, but Super Sonico has really come into her own since her 2006 debut. She's the star of her own manga, games, and more, including the 2014 anime Soni-Ani: Super Sonico the Animation. Her next stop is home video, with Sentai Filmworks' Soni-Ani: Super Sonico the Animation complete Blu-ray collection set to debut on May 26.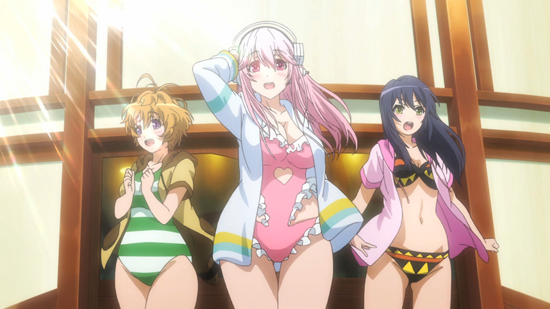 Somehow Sonico finds time to juggle a relatively crazy life, from modeling to a part-time job at her grandmother's bar, attending college classes, performing lead vocals and guitar in an all-girl band, and beyond. Thankfully she has friends like fellow bandmates Suzu and Furi by her side, making things at least somewhat manageable despite the day-to-day insanity of it all.
The bouncy musical adventures of Sonico and her pals are brought to life with director Kenichi Kawamura (Episodes of Black Lagoon and Parasyte -the maxim-) at the helm. Yousuke Kuroda (Trigun, Mobile Suit Gundam 00) handles scripts for the WHITE FOX production.
Sentai recently revealed the full English dub cast for Soni-Ani, which has Jessica Nigri taking on the lead role. Other cast members include Luci Christian as Suzu, Monica Rial as Furi, and David Wald as Mr. Kitamura, and you'll be able to hear them all along with the original Japanese language options when Sentai's complete Soni-Ani Blu-ray collection arrives later this month. While it won't ship till the 26th, you can already reserve a copy by pre-ordering with Rightstuf via this link. 
**This article was sponsored by Sentai Filmworks**