Attack on Titan Real Escape Game Heads Stateside
We reported back in October the Attack on Titan Real Escape game, a real-life puzzle game based around the titanically popular series, would be busting out of Japan and hitting other countries, starting with Singapore. We also asked – and I quote (myself) – "America next?!"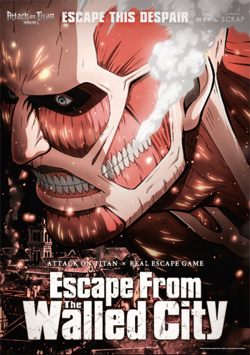 Well, as it turns out: yes.
The Attack on Titan Real Escape game will head to San Francisco, Los Angeles and New York in February, March and April, respectively.
The full name of the game is Escape From The Walled City, and the idea (of the Japanese version, anyway) is that participants are Survey Corps trainees whose training is interrupted by some hungry Titans. They then have to work as a team to solve a series of puzzles and find the escape route in one hour.
These escape games are notoriously difficult, with only 10% of participants successfully completing the Titan version.
A quick grain-of-salt note: as of this writing, the official site is displaying a blank screen: perhaps SCRAP, the company behind the game, realized they jumped the gun by putting it up? A cached version can be seen on Google.
What about you – lucky enough to live in one of these cities? Planning your trip already? Let us know.
Source: ANN
---
Related Stories:

– Attack on Titan Escape Game Escapes Overseas
– Attack on Titan Invades Real Life
– Buy Attack on Titan's 3D Maneuver Gear
– Be An Extra in the Attack on Titan Movie
– Nintendo Previews Attack on Titan 3DS Game