7-Eleven to Release Life-Size Attack on Titan Figures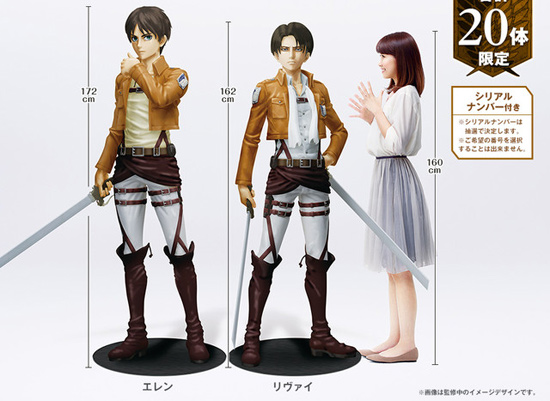 You know what I've always felt is lacking here at Otaku USA Japan Headquarters? A life-size figurine of Attack on Titan's Eren, that's what.
I think I'll saunter down to my local 7-Eleven and put in my name for their new lottery, in which 20 lucky Titan fans will win the chance to buy either a life-size Eren or Levi.
The Eren figure measures 172cm (about 5'5") while Levi is a little shorter at 162 cm (5'4", but size doesn't matter, right?).
Now, just to be clear, lottery winners don't win the figures outright – they win the ability to buy the figures, which cost a pretty penny – 1,725,000 yen, or about $14,500.
Makes the Colossal Titan Bearbrick look like a bargain.
Man, are there really 20 people who like Attack on Titan enough to shell out $14,500 on one of those figures? I guess 7-Eleven thinks so…
Source: Crunchyroll
---
Related Stories:
– Attack on Titan and JoJo merch hits 7-Eleven
– Attack on Titan Attraction Features Life-size Titans
– Attack on Titan Ties Up With… Water Coolers?
– See the Attack on Titan Film Trailer with Subs
– Attack on Titan Part 1: Crimson Bow and Arrow Film Review