Yuri Life [Manga Review]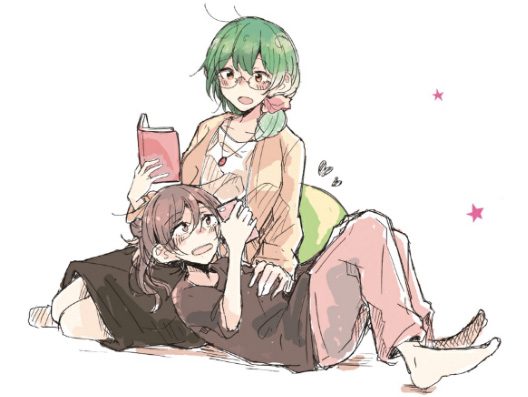 As fun as it can be to pore over the adventures of will-they-or-won't-they couples in the world of yuri, sometimes it gets a little ridiculous. If you're not in the mood for silly love triangles, almost-kisses, or nonsense where two lifelong friends never work up the nerve to confess their feelings, it's time for Yuri Life. Instead of a lengthy story spanning multiple volumes, webcartoonist Kurukuruhime has crafted a collection of adorable short comics featuring committed relationships between queer women.
The characters include two women in their 30s who love gaming, a writer and a library clerk who complement each other, and even a college student and a pet shop owner. From story to story, we see how these characters express affection and spend their days together. All in all, the volume covers 10 different couples in 10 different situations, all of which are variations on the basic romantic setup of two women in love living together.
The stories, printed in gorgeous color, are short and sweet, dropping in on simple moments like couples cooking dinner, playing video games, or taking a moment to impart a tender "I love you." Their quiet adventures are occasionally humorous, but always warm and mostly realistic. Reading the book is like glancing into a series of windows into the lives of lesbian couples who enjoy healthy, loving relationships.
Yuri Life is one of the few yuri manga on the market featuring more or less believable, real-world couples in happy day-to-day relationships, which is enough on its own to earn it a recommendation. It's a great read, with deliciously bite-sized stories and lovable, believable characters. Manga fans looking for more realistic depictions of lesbian relationships will especially enjoy it. Yuri Life is a sweet reminder that, even in the most difficult modern times, love is beautiful. Recommended.
publisher: Yen Press
story and art: Kurukuruhime
rating: OT