INTERVIEW: Yuri Manga Creator Ruri Kumashika Talks Influences and Themes
Mangaka Ruri Kumashika publishes yuri manga through Lilyka. Her series Around The Season of Cherry Blossoms is a story of yearning from a student who loves her female teacher, and the fourth issue was just released. She is also the mangaka behind The Sweet Ring and has two autographed shikishi left that fans can buy. Otaku USA caught up with her to talk about her theme of cherry blossoms, how growing up in Nagano Prefecture influenced her work, and what she's working on now.
How did you get your start as a manga creator?
When I was a kid, I came across a manga that creates the world with stories and pictures, and I got into manga. I copied Rumiko Takahashi as a model to practice every day. While I copied them, I wanted to draw my own story, and then I started thinking about original manga, but if I couldn't create it well, I wondered how I could make mine interesting.
I was absent from drawing while I worked for a company, but after moving to Hawaii due to my husband's work, I started drawing manga in earnest and started to register for a manga award that was sponsored by a Japanese publisher. When I lost one after another and thought, "Let's give up on being a manga artist if I lose next time," then, I won a manga award, so I couldn't give up anymore. (lol) Since then, I've been drawing manga all the time.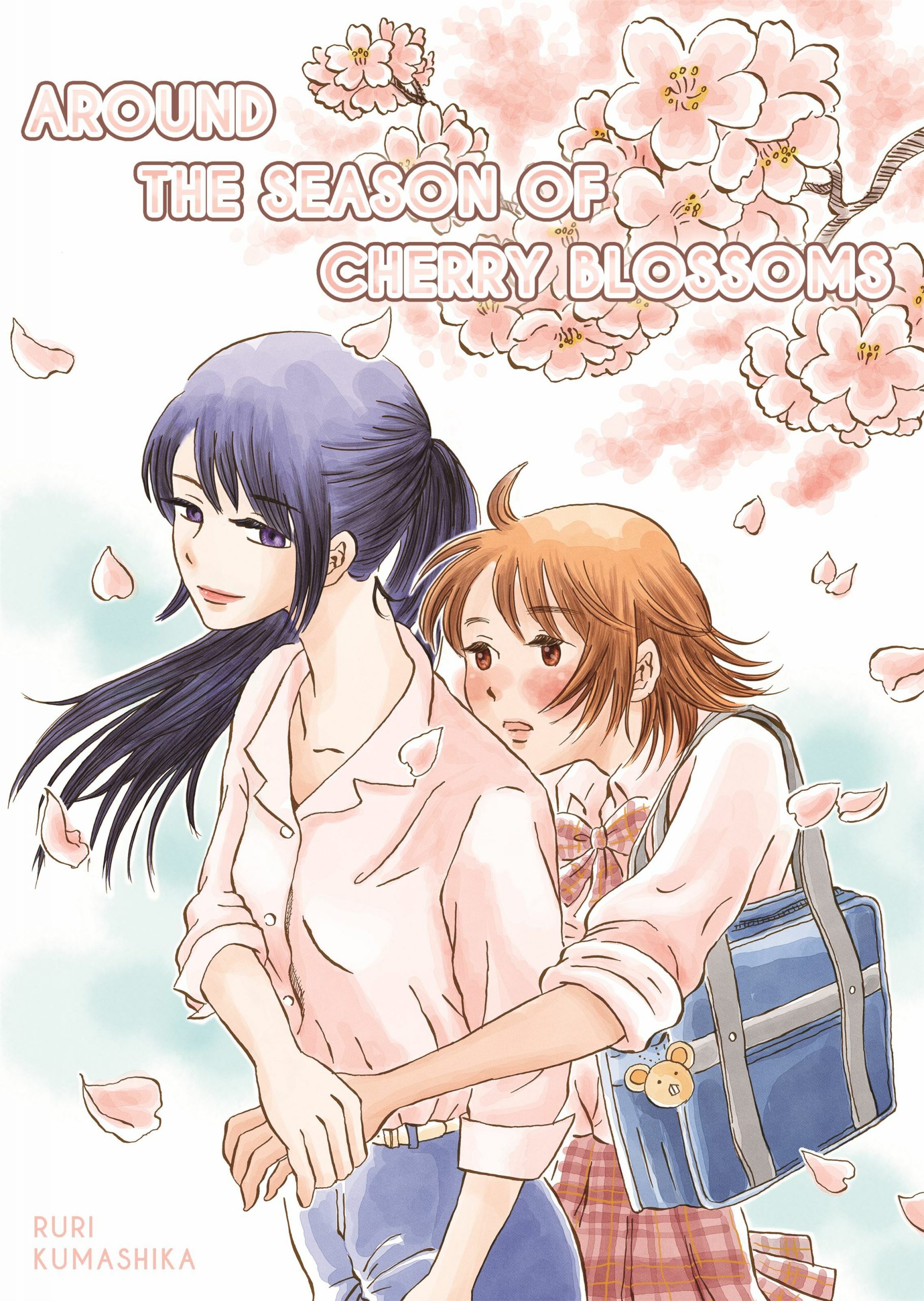 What is it about cherry blossoms (sakura) that inspired you to use them as a theme in your work?  
A new semester starts in April for Japanese schools. At the time of enrollment, the cherry blossoms are in full bloom and excited about new encounters, but also a little anxious. I felt that the cherry blossoms are flowers that give a hint of the beginning of such a new season, and I thought that it would be perfect for the image of the main character, Ritsu, who awakened to the first Yuri romance. Also, I love sakura myself!
Did growing up in Nagano Prefecture near a temple influence your work?  
When I was little, the Zenkoji Temple in Nagano was on the road to school. A middle-aged woman who sells manju (sweet buns) at Nakamise gave me a manju there. Since I was a child, the historic building was close to me, and after I moved to live abroad, I realized the splendor of traditional Japanese culture. Even in my manga Around The Season of Cherry Blossoms, Japanese culture such as shrines and shrine maidens are scattered throughout the works.
Are you working on any new manga? Where can people find your work?  
Currently I have Around The Season of Cherry Blossoms, the serialized story translated by Lilyka, but there are still more Yuri situations that I would like to draw, such as cohabitation Yuri and working adult Yuri. So I wish I could draw other short stories as well for Lilyka. This is just my hope. (Lol)
Digital comics are evolving steadily, and I'm happy to be able to connect with people all over the world. From now on, I would like to challenge and send out interesting and new things. I love hamsters, so I upload my hobby hamster comics on Twitter once a week. (It's in the Japanese language only, though…)
Could you please tell us about the shikishi you created for Lilyka that fans can buy?  
I was very happy to hear about the
shikishi event
from Lilyka. At the same time, I was nervous about what to do if I didn't receive any orders. So, when I received it, I was trembling with happy emotions! Recently, my manga has been digitally finished, but for the shikishi, I draw with gratitude for each brush. If you have any
requests for illustrations
, please let me know when ordering.
Is there anything else you want Western fans to know about you?
Around The Season of Cherry Blossoms wants to depict the changes in the minds of the main characters, Ritsu and Sawa-sensei, while following the four seasons of Japan.
Summer festivals and yukata are scheduled to appear in the midsummer edition, so I hope you enjoy them as well. There will be big movements in Ritsu's love, so please look forward to it!
It's still a slow pace update, but I'd like to introduce the scenes and illustrations in the works
on my Instagram.
____