your name. Anime Film's Dub Cast Announced
Once it's done with December's Oscar-qualifying run in Los Angeles, Makoto Shinkai's your name. anime film will make its full North American theatrical debut in 2017. The film will be released in both subtitled and dubbed versions, and Funimation is gearing up for its arrival with the reveal of the English dub cast.

Here's a breakdown of the characters: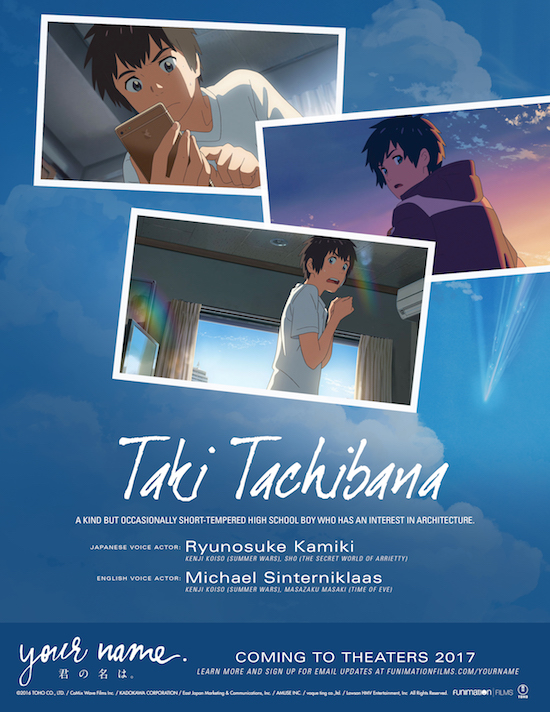 Taki Tachibana: 
A kind but occasionally short-tempered high school boy who has an interest in architecture.
Japanese voice actor: Ryunosuke Kamiki
Kenji Koiso (Summer Wars), Sho (The Secret World of Arrietty) 
English voice actor: Michael Sinterniklaas
Kenji Koiso (Summer Wars), Masakazu Masaki (Time of Eve)
Mitsuha Miyamizu: 
A high school girl who lives in the rural countryside but dreams of one day living in Tokyo.
Japanese voice actor: Mone Kamishiraishi
Kanade Ooe (Chihayafuru – Live-Action Movie)
English voice actor: Stephanie Sheh
Usagi Tsukino (Sailor Moon), Kayo Hinazuki (ERASED)
Katsuhiko Teshigawara & Sayaka Natori: 
Mitsuha's best friends and classmates. They both seem very close…
Katsuhiko Teshigawara

Japanese voice actor

Ryo Narita

 

Curve (One Piece Film: Gold)

 

_

English voice actor

 

Gohan (Dragon Ball Z), Kamina (Gurren Lagann) 
Sayaka Natori

Japanese voice actor

Aoi Yuki

 

Madoka Kaname (Puella Magi Madoka Magica), Kayo Hinazuki (ERASED)

 

_

English voice actor

Cassandra Morris

 

Taiga Aisaka (Toradora!), Suguha Kirigaya/Leafa (Sword Art Online)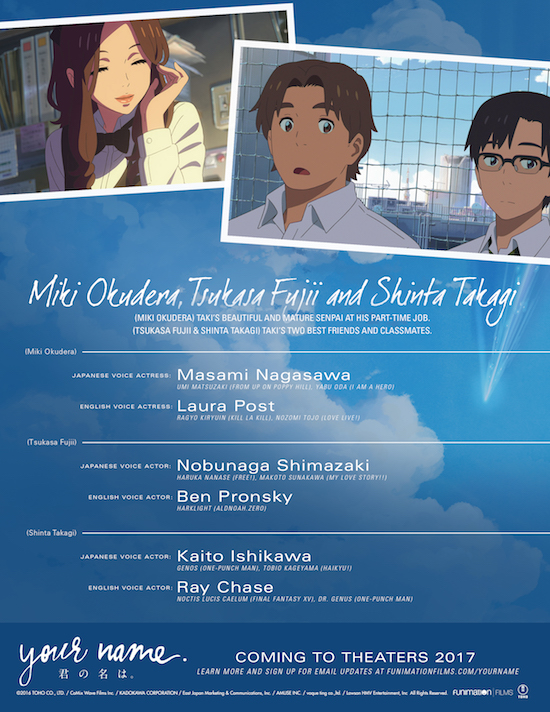 Miki Okudera

Taki's beautiful and mature senpai at his part-time job

Japanese voice actor

Masami Nagasawa

 

Umi Matsuzaki (From Up on Poppy Hill), Yabu Oda (I Am a Hero)

 

_

English voice actor

Laura Post

 

Ragyo Kiryuin (Kill la Kill), Nozomi Tojo (Love Live!)
Tsukasa Fujii

One of Taki's best friends and classmates

Japanese voice actor

Nobunaga Shimazaki

 

Haruka Nanase (Free!), Makoto Sunakawa (My LOVE Story!!)

 

_

English voice actor

Ben Pronsky

 

Harklight (Aldnoah.Zero)
Shinta Takagi

One of Taki's best friends and classmates

Japanese voice actor

Kaito Ishikawa

 

Genos (One-Punch Man), Tobio Kageyama (Haikyu!)

 

_

English voice actor

Ray Chase

 

Noctis Lucis Caelum (Final Fantasy XV), Dr. Genus (One-Punch Man)
Yotsuha Miyamizu

Mitsuha's little sister

Japanese voice actor

Kanon Tani

 

Menma (Anohana: The Flower We Saw That Day – Live-Action Movie)

 

_

English voice actor

Catie Harvey
Hitoha Miyamizu

Mitsuha's grandmother

Japanese voice actor

Etsuko Ichihara

 

_

English voice actor

Glyins Ellis
Toshiki Miyamizu

Mitsuha's stern father, and the local mayor

Japanese voice actor

Masaki Terasoma

 

Hidan (Naruto Shippuden)

 

_

English voice actor

Scott Williams
Yukari Yukino

Mitsuha's teacher at school. Fans of director Makoto Shinkai's work will recognize her as the female lead in his previous film, The Garden of Words.

Japanese voice actor

Kana Hanazawa

 

Akane Tsunemori (PSYCHO-PASS), Rize Kamishiro (Tokyo Ghoul)

 

_

English voice actor

Katy Vaughn

And here's a dubbed trailer: