Winter 2019 Anime Hype: More Japanese Fans Rank Anticipation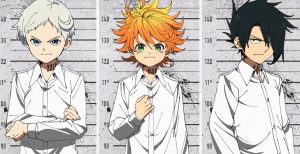 The winter 2019 anime season is here, but we're still waiting on a handful of premieres to really kick it into full gear. The rest of the shows will be launching over the course of the next week or so, and in the meantime we have some more insight into what Japanese fans are looking forward to the most.
First up, you might want to check out KADOKAWA group's research from the end of the year, which nailed down the top 20 most anticipated Winter 2019 anime according to Japan. Following up on that is a ranking from NTT Docomo, Japan's largest mobile phone operator. Their online survey was held through the dAnime Store service between December 26 and January 7, and you can see how the 57,748 votes were divvied out in the list below.
Here's the top 10:
10. Boogiepop and Others – 2,253
9. Domestic Girlfriend – 2,317
8. Mob Psycho 100 II – 2,362
7. The Morose Mononokean II – 2,731
6. Date A Live III – 2,859

5. The Rising of the Shield Hero – 3,298
4. Kakegurui xx 2nd Chapter – 3,366
3. The Quintessential Quintuplets – 3,530
2. Kaguya-sama: Love is War – 3,560
1. The Promised Neverland – 4,644
And the rest, from 11-42:
11. 3D Kanojo Real Girl second season – 2,031
12. Kemono Friends 2 – 1,970
13. Doukyonin wa Hiza, Tokidoki, Atama no Ue. – 1,967
14. Dororo – 1,605
15. BanG Dream! 2nd Season – 1,533
16. WATATEN!: an Angel Flew Down to Me – 1,237
17. Forest of Piano second season – 1,188
18. B-Project: Zeccho Emotion – 1,159
19. Meiji Tokyo Renka – 1,149
20. How clumsy you are, Miss Ueno – 1,113
21. Kouya no Kotobuki Hikoutai<span class="s1″> – 1,031
22. Magical Girl Spec-Ops Asuka – 980
23. Papa datte, Shitai – 878
24. Endro~! – 802
25. Grimms Notes The Animation – 783
26. Kemurikusa – 754
27. Girly Air Force – 746
28. W'z  – 650
29. Virtualsan-Looking – 624
30. revisions – 580
31. Pastel Memories<span class="s1″> – 563
32. Manaria Friends – 523
33. The Price of Smiles – 507
34. Saint Seiya Saintia Sho – 450
35. Rinshi! Ekoda-chan – 359
36. Katana Maidens ~ Mini Toji – 357
37. Rainy Cocoa side G – 323
38. CIRCLET PRINCESS<span class="s1″> – 257
39. Dimension High School – 235
40. Bermuda Triangle ~Colorful Pastrale~ – 216
41. HERO MASK – 138
42. Flying Babies – 120
Via Crunchyroll