We Can't Wait for These New Anime Seasons to Start!
New year? New anime seasons! With 2021 comes not only a fresh batch of brand new shows, but the return of several we've been waiting to see more of. More are being announced every day, so be sure to keep your eyes on this site for the latest anime news!
In the meantime, here are a few anime making their return in 2021. From chill slice-of-life to classic robot action, we're ready for every single one!
Evangelion 3.o+1.0: Thrice Upon a Time
Okay, technically Evangelion 3.0+1.0 isn't a new anime season. But in the format of Rebuild of Evangelion, it's pretty much the same thing. The long-awaited last chapter (as far as we know) of Hideaki Anno's classic story comes out very soon. Rumors and theories abound, but we can't know for sure what's coming until the series hits. Will we finally know what's up with Kaworu? Will Shinji get congratulated again? How many Asukas are there? We can't wait to find out… and then, possibly wait for the re-rebuild to be announced.
If there's one new anime season everyone's on edge for, it's The Promised Neverland. The thrilling psychological drama under an idyllic disguise caught eyes as both a manga and an anime. The manga itself has finally wrapped, and a live-action film premiered in Japan on December 18. With the first big hurdle overcome by the end of Season 1 and many mysteries waiting to be solved, the second season is looking to be exciting. The series picks up again next month — though we can't tell you much about where our heroes are starting, just in case you're not caught up to last season. You still have a little time to get there if you're behind!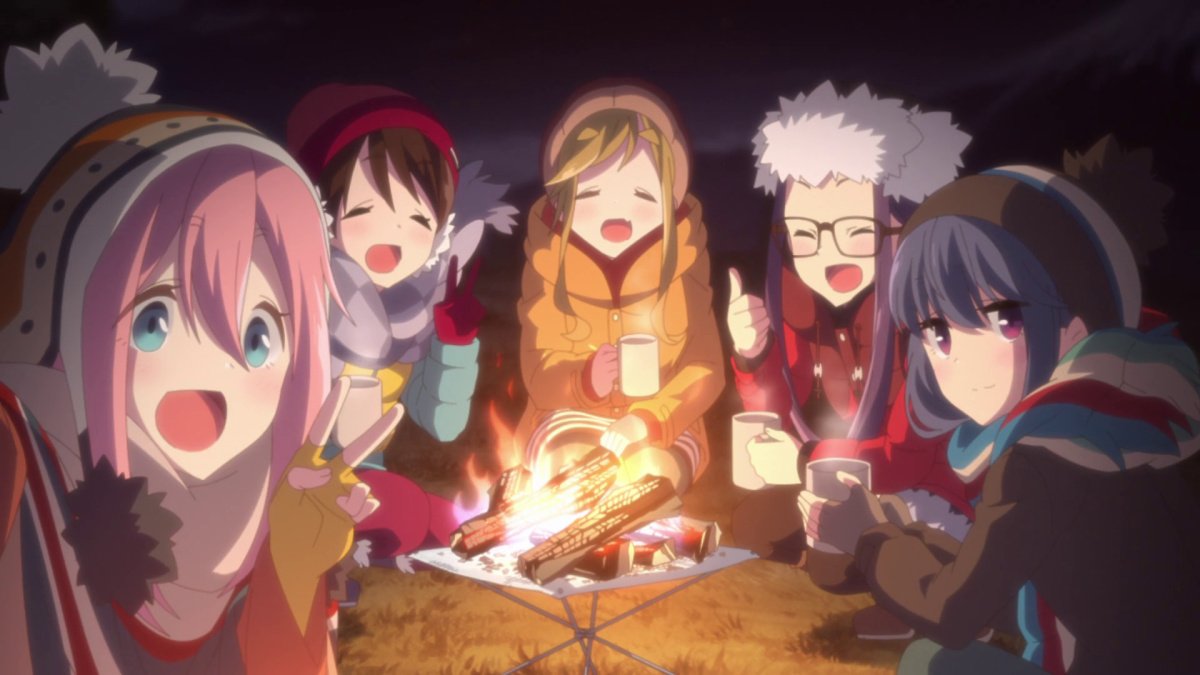 At last, there's a new anime season of shiny days ahead! The appropriately-named Laid-Back Camp will be coming back next month, and it's just the tonic we need for the year (about to be) behind us. We got a stop-gap with ROOM CAMP, in which Nadeshiko, Rin, and friends saw the sights of their hometown by way of a stamp rally. The upcoming season brings with it more from the original manga, including the introduction of characters not yet seen in the anime. Everything so far has been just as chill as we've expected, from the music to the adorable visuals and collaborations.
Remember when Catarina Claes thought she wouldn't even survive school? Now she's got a whole new anime season ahead of her! My Next Life as a Villainess: All Routes Lead to Doom! isn't nearly as dire as the title makes it sound. If anything, it's super-wholesome — with a reincarnated isekai heroine doing her best to escape all the doom flags ahead of her. We can't wait for another round of fantasy, otome game vibes, and the most adorable harem show situation we've ever seen. What new challenges await Bakarina? We'll find out sometime in 2021.
Every best girl (and Mami) will be back for a new anime season sometime next year! Rent-a-Girlfriend won hearts in 2020 — the sometimes sexy, sometimes sweet comedy of errors gained a huge fanbase. But Kazuya Kinoshita's troubles are far from over. He'll still have to balance keeping his family happy, navigating the world of rental girlfriends, and managing his crush on the super-crushworthy Chizuru. The manga is still running for those who want to get ahead of the game. Otherwise, we can expect a continuation of the show at an unspecified date in 2021.
What new anime seasons are you most looking forward to? Are there any shows you think deserve a longer run?
---
Otaku USA may earn a small commission on purchases made through links on this article.