We Bite Into the Kancolle x Pizza Hut Collaboration
A few weeks ago, we highlighted Kantai Collection, the browser game-turned-anime about batttleships that are also somehow young mini-skirt wearing girls.
For further proof KanColle is being set up to take over the world, look no further than the special collaboration being run with Pizza Hut here in Japan, where with the purchase of a medium pizza, one can receive a KanColle pizza box and an A4 folder.
As serious otaku journalists, we had no choice but to go in for a KanColle pizza and document the results.
Though it's sold as a pizza box, and does slip over the regular box, the KanColle box comes separately – ostensibly to keep any grease off the precious collectable. This was reportedly the case with previous Pizza Hut anime tie-ins, and they've now wizened up.
Still, I kind of wanted to see my delivery guy arrive carrying a pizza wrapped in this.
As a bonus, the box folds into a tissue holder, complete with pop-up KanColle girls on both sides. Nifty.
Just to be clear, the pizza itself has no special battleship flavor: the tie-in is simply the box, a 0 yen item added to your cart at checkout (or when you order over the phone, we suppose – does anyone do that anymore?).
So, that's that. Stuff like this is cool, and very "only in Japan." Can't imagine Pizza Hut in the States teaming up with a moe anime.
On the other hand, a medium pizza is about 20 bucks. So there's that.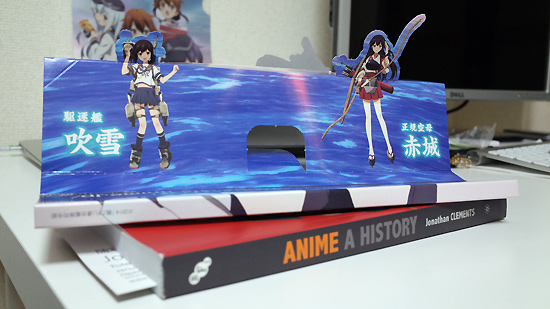 Matt Schley is Otaku USA's Man in Japan and e-News editor. He likes jalapenos on almost anything. Find him on Twitter @rhymeswithguy.
---
Related Stories:

– [Primer] An Ensign's First Guide to Kantai Collection
– Attack on Titan Collaborating with Pizza Hut
– You Can Marry A Battleship Girl in Kancolle
– Domino's Japan sells out of Miku pizza boxes
– KFC goes DBZ to promote new film