Twitter Otaku Throw Japanese News Show Into Chaos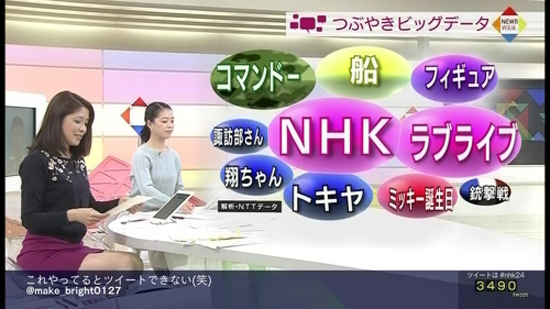 Yesterday, Japanese TV station NHK announced starting next year, they will be showing reruns of Love Live!, the popular series about idols who team up to prevent their school from shutting down.
That and a weird conflux of other otaku-related topics, prompted a wave of tweets that had some unintended consequences for another NHK show.
That show was NHK News Web, a nightly news program that summarizes what happened on the internet that day. One segment, called Tsubuyaki Big Data, analyzes the day's tweets.
While Tsubuyaki Big Data usually deals in more serious topics, Twitter was having a bit of a nerd out on Wednesday. Aside from the Love Live! announcement (represented in the biggest circle, next to "NHK"), Twitter users were also going wild over Uta no Prince-sama (the three blue bubbles) and… the broadcast of the 1985 Arnold Schwarzenegger film Commando (top left).
The net is truly vast and infinite.
Source: Yaraon