Japanese Fans Rank Anime's Cutest Mascot Characters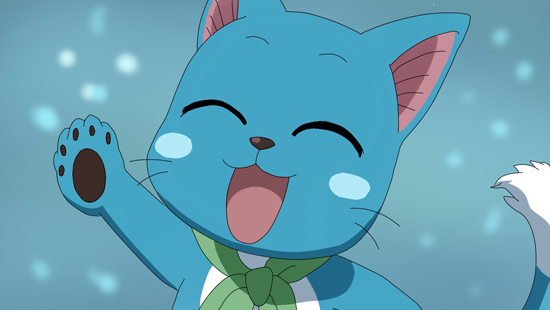 Fairy Tail
's Happy.
You know the ones. Those anime and manga characters where you can't help thinking, "man, that is some high-level kawaii."
If you've ever wondered if your taste in cute mascot characters – be they animal, fairy, robot, god, whatever – matches up with anime and manga fans in Japan, now is your chance to find out. Pollsters Charapedia have asked their readers to rank the top 20 cutest anime mascot characters, and without further ado…
Seven Deadly Sins
' Hawk.
20. Sonic – Blood Blockade Battlefront
19. Tanuki – Monthly Girls' Nozaki-kun
18. Kon – Bleach
17. Piyo-chan – Uta no Prince-sama
16. Hawk – Seven Deadly Sins
15. Shiro – Crayon Shin-chan
14. Mokona – Magic Knight Rayearth
13. Taromaru – School-Live!
12. Haro – Mobile Suit Gundam
11. Happy – Fairy Tail
10. Gerota – A Certain… series
9. Tetsuya 2 – Kuroko's Basketball
8. Elizabeth – Gintama
7. Keroberos – Card Captor Sakura
6. Tippy – Is the Order a Rabbit?
5. Pikachu – Pokemon
4. Madara/Nyanko-sensei – Natsume's Book of Friends
And the top three…
Number three: Kyubey, the cute but ultimately dastardly cat-like entity from Puella Magi Madoka Magica. Interestingly, on the male side of things, Kyubey actually came in number one, while he didn't even crack the females' top 10. He does do some pretty terrible stuff to those girls, after all.
Number two: the dog Sadaharu from Gintama. Originally a god of destruction, Sadaharu is adopted by the Yorozuya after the Space Terminal renders him jobless. Did you know: Sadaharu weights 661 pounds. Cute, but definitely not a lap dog.
Number one: One Piece's Tony Tony Chopper. A human/reindeer hybrid (long story), Chopper is the Straw Hat Pirates' doctor, though is often mistaken for a pet. Yeah, I wish my doctor were that cute.
Did your favorites make the list? Who's missing? Sound off!
Source: Charapedia
---
Related Stories:

Japanese Fans Rank Characters With the Cutest Eyes
Can you guess whose peepers came out on top?
Japanese ranking site Goo is back, and this time they've asked their readers what anime characters have the most impression-leaving pair of peepers…

Town Mascots Drain Japan's Municipal Funds
1) Mascot 2) ?? 3) Profit
Japan has a mascot problem.
Sure, the country's sported adorable characters for everything from the police to construction sites for, well, centuries…

MOE! What does it mean? What hath it wrought?
Otaku USA staff sound off on the culture of cute
Sure, studios tried to pull the wool over our eyes with the Ergo Proxys and Black Lagoons out there, but the truth is anime is all about moe now…