Travel the World with These Globe-Trotting Anime Series
Wishing you could travel the world? For now, at least, you can live vicariously through these anime heroes (and antiheroes). We've picked a few series featuring globe-trotting stars, who will leads you around our world (and occasionally others!) on heists, dirty jobs, and journeys of self-discovery. Pack your bags and get ready to travel!
Black Lagoon
If you think traveling companions of dubious morality make for a fun trip, you can't do better than the crew of Black Lagoon. Led by the raucous Revy Two-Hand, the show's modern-day pirate crew whisks away unassuming translator Rock on a series of horrifying missions. From taking down international terrorists to dealing with a pair of creepy children on a killing spree, this series packs a punch. It's not for the faint of heart, though: Revy and co. take their global travel with a side of violence.
Watch Black Lagoon on Funimation.com!
Great Pretender
The long-awaited Great Pretender had a false start thanks to 2020's many delays, but it got back on its feet and resumed its travel around the world. The heist series from Wit Studio stars Makoto "Edamame" Edamura, a small-time con man who finds himself partners-in-crime with French gentleman thief Laurent Thierry. Their capers take them from Los Angeles to Singapore to London, encountering everything from Hollywood's high life to the world of art.
Watch Great Pretender on Netflix!
Kino's Journey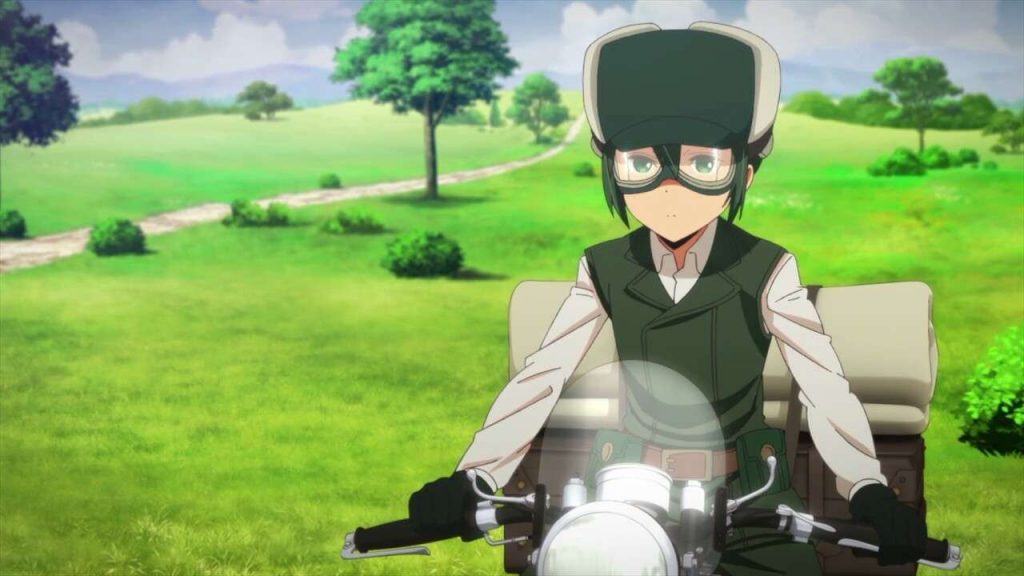 If you want to travel but nowhere in our world appears to you, have a look at Kino's Journey. Based on the stories by Keiichi Sigsawa (who also wrote Sword Art Online spinoff series Gun Gale Online), Kino's Journey follows young traveler Kino and talking motorcycle Hermes as they travel between countries in an Earth-like world. Kino spends only three days in each country — no more, no less — to learn more about it and its people before traveling on. It's an introspective series with an ever-changing setting, and there are two versions to enjoy!
Watch Kino's Journey -the Beautiful World- on Crunchyroll!
Whether it's high-octane adventure or a journey of the self, there's plenty of anime out there to let you travel vicariously. What other traveling series would you recommend to people wishing for a trip?