Tokyo Mew Mew New Releases Trailer Ahead of July Debut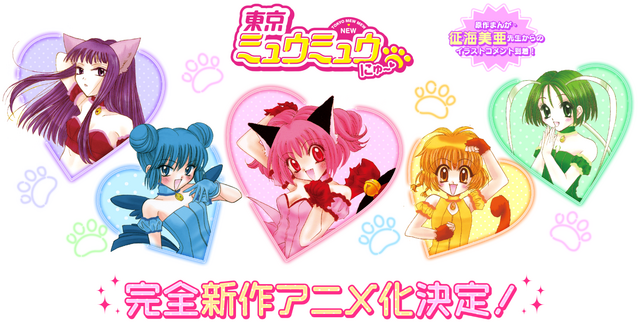 Tokyo Mew Mew New, the new anime based on the Tokyo Mew Mew manga, will be coming out in July. Ahead of this, a trailer has been released during the virtual "Tokyo Mew Mew New Anime Information Big♡Big♡Announcement Event!!!" In it, you can hear the song "Cat!! Shite Super Girls," which is performed by Smewthie. Smewthie consists of several members of the cast.
The trailer additionally revealed more actors in the anime. Yūma Uchida plays Masaya Aoyama, Yūichi Nakamura plays Ryō Shirogane, Yusuke Shirai plays Keiichirō Akasaka, and Kaori Ishihara plays Masha. It had been previously revealed that Yūki Tenma plays Ichigo Momomiya, Mirai Hinata plays Mint Aizawa, Ryōko Jūni plays Lettuce Midorikawa, Rian Toda plays Pudding (Purin) Fong, and Momoka Ishii plays Zakuro Fujiwara. These previously revealed actresses are the ones who make up Smewthie.
The anime is being made at Yumeta Company and Graphinica, with Takahiro Natori of Aria the Crepuscolo working as the director. The person in charge of series scripts is Yuka Yamada, who previously worked on Miss Kobayashi's Dragon Maid and Bungaku Shojo. Music composition goes to Yasuharu Takanashi, who has also composed for Pretty Guardian Sailor Moon Crystal, Pretty Guardian Sailor Moon Eternal, Fairy Tail and the Precure franchise.
The original Tokyo Mew Mew manga was created by Reiko Yoshida and Mia Ikumi, and it was published between 2000-2003. Credit for the original concept goes to Kodansha. A 52-episode anime adaptation was soon made, and it was brought out in America by 4Kids Entertainment under the name Mew Mew Power. Tokyo Mew Mew a la Mode was released as a sequel manga. There was also a two-chapter manga called Tokyo Mew Mew 2020 Re-Turn that came out in late 2019 and early 2020.
Source: ANN
____
Danica Davidson is the author of the bestselling Manga Art for Beginners with artist Melanie Westin. She is also the author of its upcoming sequel, Manga Art for Everyone, and the first-of-its-kind manga chalk book Chalk Art Manga, both illustrated by professional Japanese mangaka Rena Saiya. Check out her other comics and books at www.danicadavidson.com.