Tokyo Ghoul:re Season 2 Hits Screens October 9, New Visual Revealed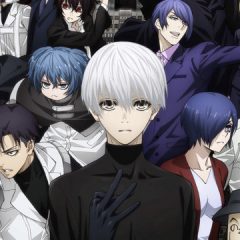 October is the perfect month for things to get spooky, and Tokyo Ghoul is here to help.
Previously, we'd heard Tokyo Ghoul:re season 2 would be hitting screens in October, but now we know the exact date: October 9.
In addition, a new visual for the series has been revealed, which you can see in full below.
Finally, it's been revealed that guitarist and vocalist Toru "TK" Kitajima from band Ling Tosite Sigure will perform the opening theme, which is called "katharsis."
TK previously performed "Unravel" for Tokyo Ghoul in 2014. His work has also been featured in Psycho-Pass and 91 Days.
Here's how Funimation described the first season of re:
A thrilling new chapter unfolds in Tokyo just two short years after the raid on Anteiku. Countering a resurgence of ghouls, the CCG selects young officer Haise Sasaki to lead an unruly team of humans infused with ghoul powers. Known as the Quinx Squad, they walk the line between humans and ghouls to rid the world of its most daunting threat. But no one said it would be easy. Let the hunt begin.
Source: Crunchyroll