The Yakuza's Guide to Babysitting Anime Reveals 2022 Premiere, Staff and Cast
An anime adaptation was announced for Tsukiya's The Yakuza's Guide to Babysitting manga back in September. The latest update confirms plans for a premiere sometime in 2022, with Yoshimasa Hosoya and Misaki Watada in the lead roles as Toru Kirishima and Yaeka Sakuragi, respectively. Both cast members previously voiced their characters in a January 2020 drama CD that came packed with the special edition of the manga's third volume.
They each shared messages about their roles in the anime.
Yoshimasa Hosoya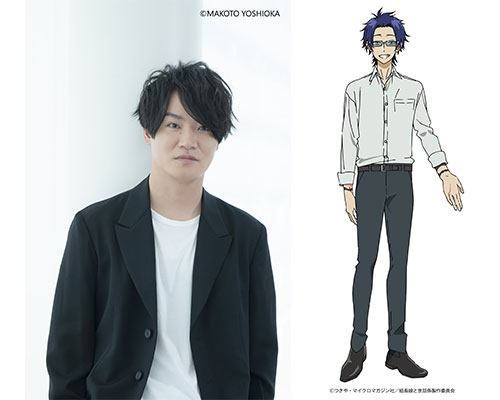 When I read the original manga, I felt that the author created what she wanted to create, with her own will, in the way she wanted. I'm really happy to be able to be involved with such a work that has received so much attention and has been made into an anime, and to have the opportunity to let more people know about it. I'm sure it will be a wonderful work that will make people feel the kind characters in an adorable and sweet way. I would be very happy if many people could see it.
Misaki Watada
I'm Misaki Watada, and I will be playing the role of Yaeka Sakuragi. I've played the role of Yaeka in advertisements and the drama CD before, and that's when I started following the original manga. I've always loved this work because it expresses everything from comedic scenes to the characters' lives and delicate emotions. 'The Yakuza's Guide to Babysitting' in animation. I'm sure it will reach deep into the heart of each one of you and become something precious to you. I'm happy to be able to spend time with the yakuza boss' daughter again. Please look forward to the broadcast.
Original manga author Tsukiya had the following to say:
It's literally just a dream for me to have my manga made into an anime, so ever since the decision was made to make it into an anime, I've been feeling like it's unreal. While thinking about how I wouldn't have believed this reality when I was writing the afterword for the first volume, now I'm chewing on the joy of having made it this far.
It was an incredibly luxurious and valuable experience for me to work remotely while listening to the voice recording session, and I was very moved to see how the cast and production staff at the site were so dedicated to making the Kumicho Musume anime. I can't wait to watch the anime with the readers and share the excitement with them.
Main staff members include Itsuro Kawasaki (Sengoku BASARA) as director, Keiichiro Oochi (The Quintessential Quintuplets) as series composition writer, Hiromi Ogata (Mini Toji) as character designer, and Takuro Iga (Wataten!: An Angel Flew Down to Me) as music composer at anime production house feel. / GAINA.
Teaser visual:
The series launched on the Comic Ride pixiv site in 2018 before eventually moving to Comic Elmo, and there are currently over 500,000 copies in circulation.
So far, The Yakuza's Guide to Babysitting has been collected in six volumes, Kaiten Books licensed the series in English and describes it like so:
Kirishima Tooru is as vicious a yakuza as they come, to the point where he's earned the nickname "the Demon of Sakuragi." To get him under control, he's suddenly given a new mission straight from the boss—to babysit his daughter!
Via Crunchyroll