5 Perfect Anime to Start This Winter
As the leaves continue to fall and the temperature drops (depending on where you are), we settle into a more cozy setting, and what's more perfect than pairing anime with a cozy night in?
This is a time of year where we naturally stay in more, break out the sweaters, and sip on warm drinks (insert your favorite winter drink here). It's the perfect time to check out a new show or catch up to the latest season of some of your favorites.
We curated a list of the best anime to watch during winter. So grab a blanket and some treats and let's dive in!
Demon Slayer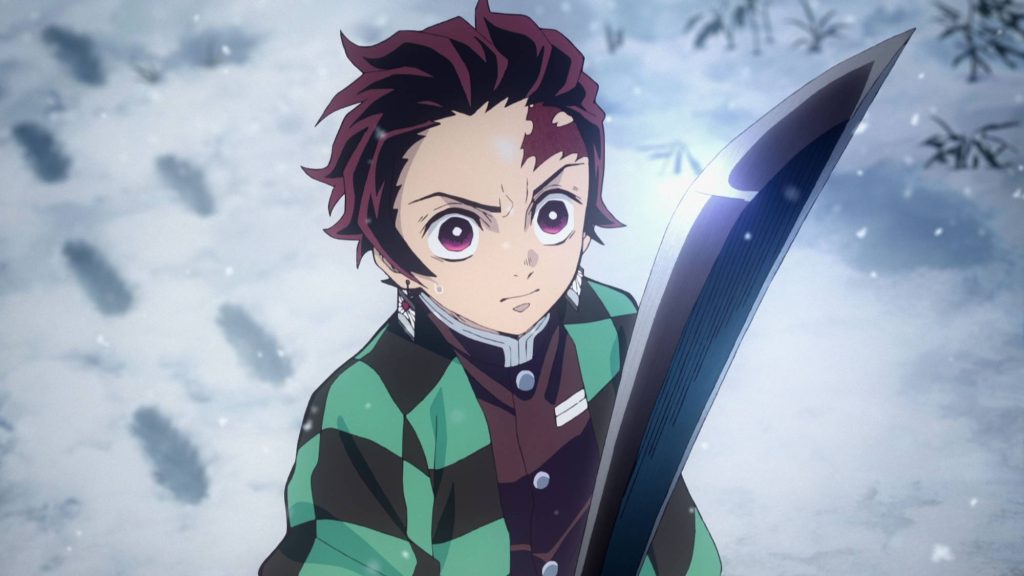 Demon Slayer starts season one in the middle of winter and follows Tanjiro Kamado, a boy who returns home to his family murdered by a demon, and his younger sister Nezuko who has been turned into a demon. He joins the Demon Slayer Corps to find the demon who harmed his family and take up arms to eradicate demons altogether.
Not only is Demon Slayer still one of the hottest shows this year, its eagerly awaited season two just premiered on December 5th. You can watch the Entertainment District Arc now on Funimation, Crunchyroll, or Hulu.
Laid-Back Camp
Want something a little more cozy, laid-back even? Then we recommend Laid-Back Camp! It's the ultimate relaxing show that focuses on a group of high schoolers who set up camp around Japan and spend their time learning the ins and outs of winter camping, building fires, making one-pot dishes, and drinking tea. Name a cozier-sounding show, we'll wait.
It's an easy watch that doesn't require a lot of keeping up with. As it emphasizes with camping, you should watch Laid-Back Camp at your own pace. While it revolves around a new camping site in each episode, it makes sure to add in camping safety tips and insights that would help new campers.
Horimiya

If you're in the mood for a rom-com, Horimiya comes to the top of mind. Horimiya embodies the saying "don't judge a book by its cover". When a popular girl and introverted boy learn to look past appearances an exciting romance begins. We watch as Hori and Miyamura discover more about one another and explore what it means to be in a relationship.
Unlike many romance anime, Horimiya gets right to the point and we love the creator for it. Towards the end of the first season, the show transitions to its Christmas Episode™ where we are treated to one of the sweetest love confessions. 
Sweetness & Lightning
Changing gears, Sweetness & Lightning is a feel-good anime all around and perfect to watch with friends, a significant other, or the family. We witness Kohei Inuzuka, a single father, learn how to cook tasty and nutritious meals for his young daughter, Tsumugi, thanks to a student whose family owns a restaurant.
Another cozy anime to satisfy the soul and provide many "aww" moments, thanks to the adorable father and daughter bonding and their honest attempts at making a new dish. If that wasn't enough, the food does look really good and is a great way to get inspiration for your next culinary masterpiece!
Kimi no Todoke
When you just need a sweet anime with plenty of that rom-com goodness, you'll want to add Kimi no Todoke to your watch list. Sawako Kuronuma's eerily resemblance to Sadako from The Ring frightens many of her classmates who try to avoid her like the plague. She may not have eye contact or a soft smile down pat, but she is a sweet girl on the inside who just wants to make new friends.
Sawako ends up befriending her popular classmate, Kazehaya, and suddenly her whole world changes. She still struggles to express herself but continues to try and muster up the courage to get her feelings across. And of course, there's an adorable Christmas Episode™ to boot. This anime makes us want to cozy up on the couch and bask in its shojo goodness.
Which anime are you adding to your list? Let us know your favorite anime to watch in winter!