The Vault of Error – Sin: The Movie

Another year is over and somehow, despite my best efforts to streamline and condense my DVD collection, the anime continues to overflow my shelves, threatening to burst the hinges off the Vault of Error. 2013 is dead and gone, leaving me with little more than a vague desire to file my tax returns. The new year beckons, brimming with untapped potential. What better way to ring in the cyberpunk future year of 2014 than with a look backwards to the equally futuristic Year 2000, a time when any moderately successful video game could merit a dreadful anime spin-off replete with half-baked religious imagery, spiky mutants, recycled Foley sound effects, and a cyborg policeman dispensing his own brand of cyborg justice?
Yes, dear audience, it's time to examine Sin: The Movie.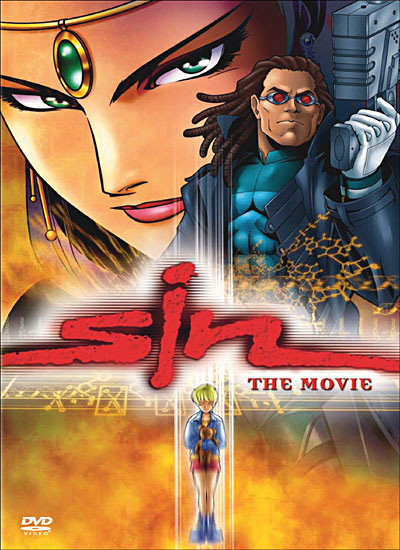 It's the future. Life is hard in Freeport, or at least I assume it is, because the whole place is cribbing a Blade Runner aesthetic, and nothing says "tough future life" like lonely alleyways with venting steam grates and funeral processions in the pouring rain. Actually, I'm not even sure this city is Freeport, as they never mention it by name and despite the giant evil corporate ziggurat and the weird suspension bridge arcology, at one point I'm certain I caught a glimpse of the Statue of Liberty…
Where was I? Oh, yes, hard-edged, cyberpunk future. You know it's cyberpunk because everybody wears dark sunglasses and scowls all the time. And the scowliest, sunglassiest cyber-policeman to ever beat the digital streets is John Blade, the captain of the elite police force known as HARDCORPS. How hardcore is HARDCORPS? They're so hardcore that their name is a pun that's always written in screaming capitals. It's not even an acronym, because acronyms aren't hardcore enough for HARDCORPS.
The future's an unpleasant place. John Blade is grumpy because he had to murder his partner / best friend, JC Armack, when poor JC was absorbed into the biomass of a nasty mutant creature seemingly responsible for a string of serial kidnappings. Also, Armack's younger sister, an intelligence specialist in the Universal Army, blames Blade for the death of her brother. Also, John Blade has to look after a shell-shocked girl—the only link to the kidnappings—who might also be the key to a terrible conspiracy involving political corruption, genetic manipulation, and organized crime. Also, eight years prior to all this shooting and absorption and blaming and kidnapping and conspiracy, John Blade was turned into a lumbering cybernetic monstrosity by a Mafia assassination that critically wounded him and killed his father. Also, there's a crazy mad scientist lady, Elexis Sinclaire, running around managing her evil mega-corporation (conveniently named SinTEK) and turning people into shape-shifting human-dinosaur hybrids while muttering crazily about God and junk DNA and the next stage of human evolution. Also, blood-splosions and cancer bullets and a gratuitous shower scene.
This is Sin: The Movie in a nutshell. It's an ill-advised co-production that bites hard on the style of such predecessors as Ghost in the Shell and Bubblegum Crisis while offering literally nothing new in the process. The saddest part of the whole endeavor is that despite its narrative shortcomings, Sin could have been entertaining if it weren't such a visual mish-mash as well. The character designs by Dan Kongouji are adequate, even reminiscent of Kia Asamiya's artwork in places. The cel animation is fair, perhaps slightly below average for a late 90s / early 2000s television production, although Sin is a straight-to-video venture masquerading as a film. The digital animation and computer-generated vehicles are jarringly bad. And the manner in which Sin is edited makes the whole package feel like less than the sum of its parts. There are moments of hilarious ultra-violence that have absolutely no gravity to them because the scenes aren't given a chance to breathe. There's no build-up. There's no pay-off. They cut away too quickly. When the camera does manage to linger on the messy demise of a mutant or a nameless mook in a HARDCORPS jumpsuit, invariably the ridiculous physics of the computer-animated blood spray distracts from the gruesome imagery.
I have to marvel at the effort that went into producing something this painfully generic. Animation—even animation interspersed liberally with obvious CG cost-cutting tricks—isn't cheap. First-person shooter games, with a few notable exceptions, aren't generally renowned for their rich narrative tradition. Sin: The Video Game never achieved the sort of cultural cachet as a Doom or a Quake or even a Hexen. Yet executive producers John Ledford, Yasuhito Yamaki, and Toru Iwakami still decided to throw enough money at this project to see it through to completion as a home video release. The result is a not-quite sixty-minute OVA with a clutter of clichés in place of a plot and animation that would be serviceable if the editing and digital trickery didn't drag it down faster than you can say "mutant dinosaur."
An anime of this caliber practically begs for a pun-laden comeuppance, but I can't even muster a joke about how this movie is sinful. I can't believe that I own it. I can't believe that I spent seven whole dollars on this thing. That's almost the price of a movie ticket. I could have gone to see Keanu Reeves save feudal Japan from heterochromatic witches and CG myth-creatures. Instead, I bought Sin. And as bad as Sin is, I don't want to get rid of it. I will probably watch it again. If I had friends living nearby, I would probably torment them with it. We would gather around the television set and wile away an hour with the exploits of John Blade, the cyborg commando one-man army on the edge with nothing to lose and YOU'VE GONE TOO FAR THIS TIME, BLADE, YOU'RE OFF THE CASE! And afterwards they would hate me for the terrible cartoons I inflict upon them.
I own Sin: The Movie. Some depraved part of me kind of likes Sin: The Movie. That is my transgression. It is also my punishment.
Distributor: ADV Films
Originally released: 2000
Running Time: 55 minutes