The Top 5 Hunkiest Hunks in Anime
You may think you know hot, but I'm here to say what is and what's not. Boys' love? Please, honey. And don't even get me started on them little Narutos. No, this here list is about raw steel and sex appeal. That's right, five men with muscle who ain't afraid to tussle. So brush your hair, pull up a chair and don't be afraid to stare at the top 5 hunkiest hunks in anime.
5. John "Sleepy" Estes (MAD BULL 34)
Somebody dial 911, 'cause you'll want this tower-o-man to be your first, last and only responder. They may call him "Sleepy," but I'll never tire of this beefcake in blue. Police brutality, you say? Why, the only thing brutal is that it's not me on the other end of his nightstick.
4. Ryo Saeba (CITY HUNTER)
Whoever coined the phrase "I love the '80s" must have been having neon-drenched fantasies about this City Hunter. A P.I. that's destined to catch your eye, they say the quickest way to his heart is by writing the letters X, Y and Z, but all I can ever do is say I LUV U.
3. Duke Togo (GOLGO 13)
If you've got a taste for a swarthy, Jon Hamm type, but with a deadlier edge, then you should find this dark, handsome fella right on target. Assassin by trade, deadly dreamboat by design, you'd die if you ever found yourself in his crosshairs. And if the rumors are true, that M16 ain't the only lethal weapon he's packing.
He's got a cool exterior that's begging to be melted, the only question is, are you hot enough to pull the trigger?
2. Keisuke Ibaraki aka Rio Baraki (THE WOUNDED MAN)
If love is indeed a wound, then throw away them stitches, because I never want this one to heal. This scarred silver fox has found himself in the jungles of South America, the football fields of the good ol' U.S. of A and, somebody draw me an ice cold bath, in front of the cameras for God's Pornographic X-Rated Films. But the one place you can always find him is in my heart.
1. Tochiro Oyama (ARCADIA OF MY YOUTH)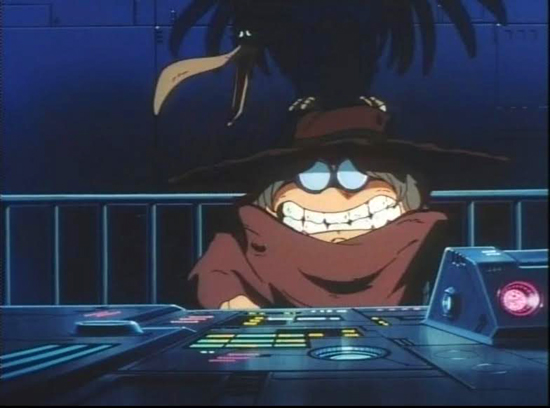 That Captain Harlock is and always has been nothing more than a pouty pretty boy in butch pirate cosplay. That scar with the little stitch lines? My sources tell me he drew that on himself. And trust me, honey, we all know the worst thing we're going to find under that eye patch is another one of them oh-so-sad baby blues.
Nuh-uh, if space is truly "the place," it's all because of this pint-sized piece of meat. A compact cosmic stud-muffin with brains and brawn. I hate to be so cliché, I do, but remember, girls, big things come in small packages. I mean really, sweetheart, did you really think he was trying to make a fashion statement with that oversized cloak?