Tanjiro Takes to the Skies Again with New Demon Slayer Planes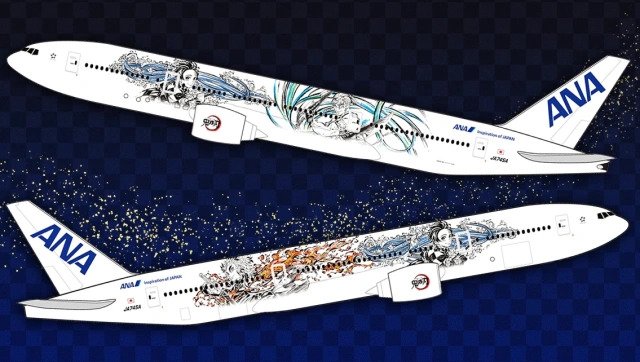 The mode of transportation you might most readily associate with Demon Slayer would be a train, but All Nippon Airways (ANA) has been teaming up with the franchise to get their planes all decked out with Tanjiro and his colleagues.
ANA's first plane with Demon Slayer decorations had images of Tanjiro, Nezuko, Inosuke and Zenitsu on its sides. Its second plane with Demon Slayer had the nine Pillars. Its latest plane with Demon Slayer, Boeing 777-200ER, is titled Demon Slayer Jet 3 and has Tanjiro and Rengoku on one side, then Tanjiro and Tengen on the other side.
But it's not just the outside that's decorated. In the interior, the seats' headrest covers have images of Tanjiro and his sister Nezuko dressed up like airline employees. Flight attendants will also wear Demon Slayer aprons, including one where you can see Nezuko sticking her head out of the pocket.
The voice actors for Tanjiro, Rengoku, and Tengen have prerecorded announcements. Attendants have the option of watching Demon Slayer: Kimetsu no Yaiba–The Movie: Mugen Train or episodes of the anime series in the Entertainment District Arc.
Those attendants can also purchase Demon Slayer drink bottles and luggage tags. These items are exclusive to the ANA flights, because the drink bottles show the sides of the airplane and the tags show five of the characters dressed up as airline employees.
Demon Slayer Jet 3 will take to the skies on October 2. Right now its flights are scheduled up until October 16.
The Demon Slayer manga is published in America by VIZ Media, and they gave this description of the first volume:
"Learning to destroy demons won't be easy, and Tanjiro barely knows where to start. The surprise appearance of another boy named Giyu, who seems to know what's going on, might provide some answers—but only if Tanjiro can stop Giyu from killing his sister first!"
Source: SoraNews24
____
Danica Davidson is the author of the bestselling Manga Art for Beginners with artist Melanie Westin, plus its sequel, Manga Art for Everyone, and the first-of-its-kind manga chalk book Chalk Art Manga, both illustrated by professional Japanese mangaka Rena Saiya. Check out her other comics and books at www.danicadavidson.com.