Studio Trigger Announces Three New Series at Anime Expo
Studio Trigger, the folks behind Kill la Kill and Little Witch Academia, have been keeping busy.
This Sunday at Anime Expo, the studio announced not one, not two, but three separate anime series, each produced in conjunction with a partner studio.
First up, DARLING in the FRANKXX, which is being co-produced with A-1 Pictures. Trigger claims that fans will be "shocked" by the talent behind the project when it's announced July 5 (can it be any more shocking than the title, though?).
Secondly, Super Samurai Syber Squad Gridman, which is being co-produced with Tsuburaya Productions and directed by Akira Amemiya (Inferno Cop). The show is named after Tsuburaya's live-action TV series from the 90s, Denkou Choujin Gridman, which also inspired the American cartoon series Superhuman Samurai Syber-Squad.
Trigger animated a short based on Gridman for the Japan Animator Expo project in 2015.
Finally, Trigger announced Promare, a series created by Gurren Lagann and Kill la Kill dream team Hiroyuki Imaishi and Kazuki Nakashima. The series, which has apparently been under development for four years, is co-produced by XFlag.
It sounds like Trigger fans have a lot to look forward in the coming anime seasons!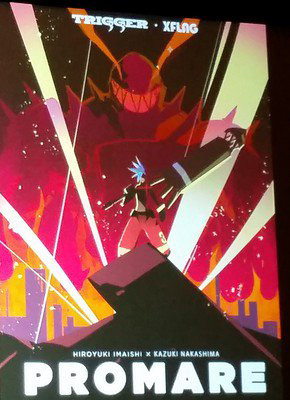 Source: ANN