Spirited Away Stage Play to be Streamed Live on Hulu This Summer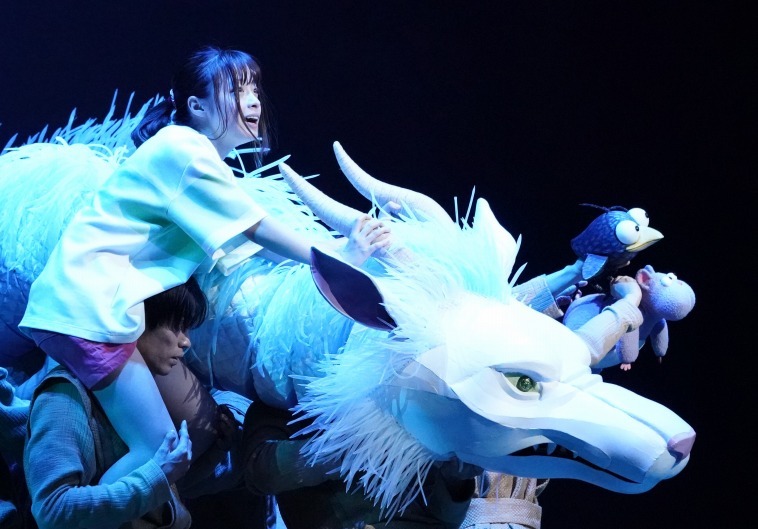 Spirited Away, one of the most iconic and beloved anime movies ever, is having a stage play in Japan. But if you're not actually able to sit in the audience, Hulu will be streaming the play twice this summer.
The play has had its run in Tokyo, and from there will be going on to Osaka, Fukuoka, Sapporo, and Nagoya next. Nagoya is ending the tour, and it will be two performances from here that will make it on Hulu.
There's a very simple reason why they're streaming the play twice: because there are two sets of actors! This is known in Japan as a "double cast," where actors switch off, and (hopefully) no one gets too exhausted from their work.
So for the play streaming on July 3, Kanna Hashimoto will play Chihiro, Kotaro Daigo will play Haku, Koharu Sugawara will play No Face, Miyu Sakihi will play Lin/Chihiro's Mother, Tomorowo Taguchi will play Kamaji, and Mari Natsuki will play both Yubaba and Zenibaba.
For the play streaming on July 4, Mone Kamishiraishi will play Chihiro, Hiroki Miura will play Haku, Tomohiko Tsujimoto will play No Face, Fu Hinami will play Lin/Chihiro's Mother, Satoshi Hashimoto will play Kamaji, and Romi Park will play both Yubaba and Zenibaba.
And while viewers may not be there in person, the streams will take place in real time. Each day they begin at noon Japanese time.
GKIDS gave this description of the original Spirited Away movie:
"Winner of the Academy Award® for Best Animated Feature, Hayao Miyazaki's wondrous fantasy adventure is a dazzling masterpiece from one of the most celebrated filmmakers in the history of animation.

Chihiro's family is moving to a new house, but when they stop on the way to explore an abandoned village, her parents undergo a mysterious transformation and Chihiro is whisked into a world of fantastic spirits ruled over by the sorceress Yubaba. Put to work in a magical bathhouse for spirits and demons, Chihiro must use all her wits to survive in this strange new place, find a way to free her parents and return to the normal world. Overflowing with imaginative creatures and thrilling storytelling, Spirited Away became a worldwide smash hit, and is one of the most critically-acclaimed films of all time."
Source: SoraNews24
____
Danica Davidson is the author of the bestselling Manga Art for Beginners with artist Melanie Westin. She is also the author of its upcoming sequel, Manga Art for Everyone, and the first-of-its-kind manga chalk book Chalk Art Manga, both illustrated by professional Japanese mangaka Rena Saiya. Check out her other comics and books at www.danicadavidson.com.