Check Out Images from the Spirited Away Stage Play in Tokyo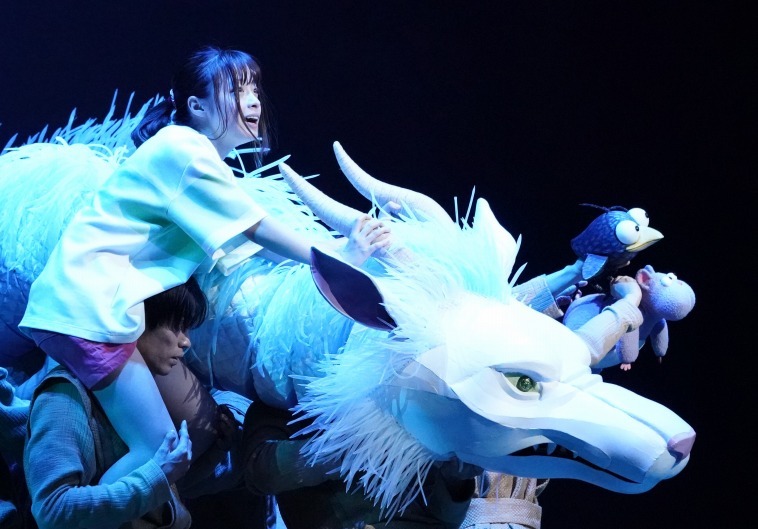 The Spirited Away stage play has debuted at the Imperial Theatre in Tokyo. For those not lucky enough to attend, there are photos from the performances, as well as a video with some of the cast.
In this set of pictures, for example, you can see the amount of effort put into the costumes and designs . . . though there's really no effort put into the car.
https://twitter.com/theatergirl_jp/status/1499460348558159877
Two actors have been hired to play each character, so that when one is acting, the other can have the day off, and vice versa. So lead Chihiro has both Kanna Hashimoto and Mone Kamishiraishi playing her. Yubaba is played by both Mari Natsuki and Romi Park, which is a nice nod to the original, because it was Natsuki herself who voiced Yubaba in the Japanese version of the anime.
"It felt like being in a theme park," Natsuki remarked about the sets. "Even in the middle of performing, there were parts where I found myself thinking 'This is so much fun!'"
Both actresses who play Chihiro also spoke to the press.
"This is my first time to appear in a stage play, so I was really happy that I was able to pull off a good performance," said Hashimoto, who has a background as an idol.
"The amount of physical activity Chihiro does during the play is no joke," said Kamishiraishi. "I have to run so much that there were times when I thought, 'I just can't do this!'"
And she talked about her appreciation for the original, and how it's helped her. "I watched the original anime so many times. It's such a wonderful work, and that motivated me when I was feeling discouraged, but it's a high hurdle trying to live up to that quality. I was very nervous, but seeing how things have turned out, I feel relieved."
Source: SoraNews24
____
Danica Davidson is the author of the bestselling Manga Art for Beginners with artist Melanie Westin. She is also the author of its upcoming sequel, Manga Art for Everyone, and the first-of-its-kind manga chalk book Chalk Art Manga, both illustrated by professional Japanese mangaka Rena Saiya. Check out her other comics and books at www.danicadavidson.com.