Shonen Jump's J-World Theme Park: Our Take
Growing up, I always dreamed about how awesome it would be if there was a Dragon Ball Z theme park. Well, more than a decade later, my wish has (kind of) come true through J-World Tokyo.
Opening this past July in Ikebukuro's Sunshine City shopping center, J-World is an indoor theme park where guests "can play in the world of Weekly Shonen Jump." While Dragon Ball, One Piece, and Naruto are the main focus of the park, the park includes attractions featuring other much-loved Jump series such as Bleach and Prince of Tennis.
Entrance to the park is only 1,300 yen (about $13 USD), which seems like a bargain considering all the park is offering. That is until you realize that you have to pay extra for each attraction in the park, which ranges from 300 to 800 yen per ticket.
After paying and going through the entrance, guests are welcomed by animated Jump characters projected on the walls of the "Center Core" area, a round room where the casts of various Jump series talk with each other. From the Center Core, the park branches off into four themed areas: a Dragon Ball area, a Naruto area, a One Piece area, and the "Hero Arena," an area filled with seven attractions based on other Jump series. In addition, there's an arcade, a gift shop, and a food court.
Each area is meticulously designed, filled with little details guaranteed to make die-hard Jump fans squeal with delight, especially the three main areas. The Dragon Ball area is designed to resemble the World Martial Arts Tournament grounds. The One Piece area puts you right into an ocean town on the Grand Line. And the Naruto area is a replica of the ninja academy in Hidden Leaf Village.
Unlike most theme parks where the attractions are large rides geared toward offering guests high-speed thrills, the attractions at J-World are designed to fully immerse you into the world of Shonen Jump. Because of this, the attractions are dialogue heavy, but thankfully, each attraction has thorough English explanations of everything involved.
The first attraction I went on was "Seek! The Dragon Balls!" In this attraction, you have fifteen minutes to infiltrate the Red Ribbon Army's fortress and solve puzzles in order to get the dragon balls back. Once you collect all seven, you are escorted by a staff member to the sacred temple where you summon the eternal dragon, Shenron, to make your wish to save the world. The temple is of such a grand scale and intricate design that you can hardly believe you're actually inside a shopping mall. After saving the world, you're given one of five collectible coins as a token of your achievement (and also to justify the 800 yen you just shelled out).
Next, in the Naruto area, I went on "A fierce fight! Ninkai Taisen Emaki!" where you must help Naruto and his friends defeat the bad guys by using your ninja skills to complete an obstacle course. Challenges include searching a room for hidden switches, moving through a room without disturbing anything in it, and mashing buttons as fast as you can in order to help Naruto power-up. This one was a little bit difficult to understand compared to the last one, but thankfully non-Japanese speakers can get a full translation of each dialog used throughout the course.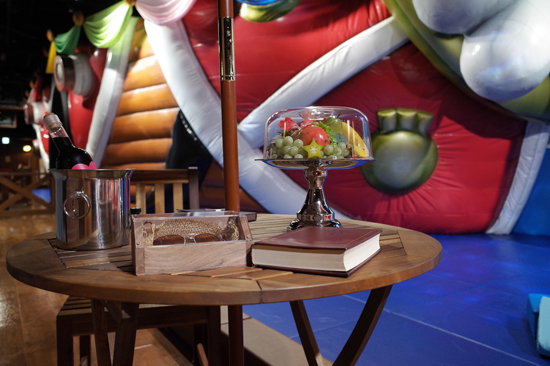 Feeling the need to spend more money, we headed off to the arcade. At the arcade, you can try your hand at winning various Jump themed prizes from the many crane games. As an avid crane game enthusiast, it was disappointing knowing that none of the prizes were exclusive to J-World. We were about to write off the arcade as another money pit when we noticed three Jump-themed purikura photo booths. For the uninitiated, purikura photo booths allow you to decorate your pictures after you take them and send them to your cell phone. It was well worth the 500 yen to be able to take a picture with Goku and put heart stickers all over it. We also got the chance to take a picture with the real Goku – and by real I mean a guy in a Goku suit.
Finally, we finished up our day at J-world with a Jump themed meal in the J-World Kitchen. The menu was quite large and impressive with food items representing a dozen or so different series. And, most impressive of all, the food was actually reasonably priced.
After all is said and done, J-World definitely accomplishes its goal of putting you in the world of Shonen Jump. Fans will appreciate how much painstaking detail was put into each inch of the park. And overseas fans will appreciate the accessibility they offer with English translations. Just be prepared to spend some money.
This story originally ran in the 10/22/13 issue of the Otaku USA e-News
e-mail newsletter. If you're not on the mailing list, then you're reading it late!
Click here to join.
---
Related Stories:

– One Piece Theme Park Heads to Tokyo Tower
– "Gundam Front Tokyo" Theme Park Opening in April
– Life-size walking Gundam planned
– The Shonen Jump theme park is real
– One Piece Theme Park Attraction Opening in March