Saint Seiya: Saintia Sho Volume 1 [Review]
In all the ways that count, Saintia Sho is indistinguishable from its source material, the classic 1980s fantasy battle manga Saint Seiya (published in English as Knights of the Zodiac) and its thousand-and-one spinoffs. This time around, the main cast is composed entirely of female Saintia (who, it will be noted by franchise aficionados, are given a convenient excuse for not wearing the masks women Saints are required to don in the original manga) as opposed to male Saints, and Chimaki Kuori's lighter lines, wistful shading, love of glamorous digital effects, and freer page compositions suggest this latest addition to Masami Kurumada's global phenomenon owes more to shojo than shonen influences. But if the wallpaper has been replaced, the foundation of the house remains the same.
Shoko, our heroine, is a plucky, martially skilled teen roped by fate into an alliance with a group of similarly gifted adolescents and into conflict with a malevolent deity intent on possessing the body of a loved one (in this case, her sister). The golden Sagittarius cloth shows up at opportune times to save the imperiled team; Kyoko, saint of the Equueleus cloth, attacks with Seiya's trademark Meteor Fist; the Saintias' adventures are even set parallel to the events of the Galaxian War arc that opened the original manga, as if to assure fans that no matter what happens, this story can't stray too far from the events of the original. As a comforting reminder or a bid to tap into 1980s nostalgia, it's perfect: the fights are brisk, hot-blooded, flashy affairs full of posturing, and the melodrama is loud and teary, exactly as Kurumada would have drawn it.
One wishes it were braver, though. A Saint Seiya manga featuring an all-female cast is an exciting and welcome addition, and the decision to move the goddess/queen Athena from her role as a passive McGuffin to a motivating agent in her own right is especially appealing, setting this manga free from the staggered plotting that hobbled the original at the worst of times. The dynamic between Athena and her Saintia foregrounds the emotional connection that too often felt ancillary to the more visual conflicts and concerns. For once, the Saints feel like they have a vested personal interest in Athena's well-being and aren't just a group of warriors roped into helping her.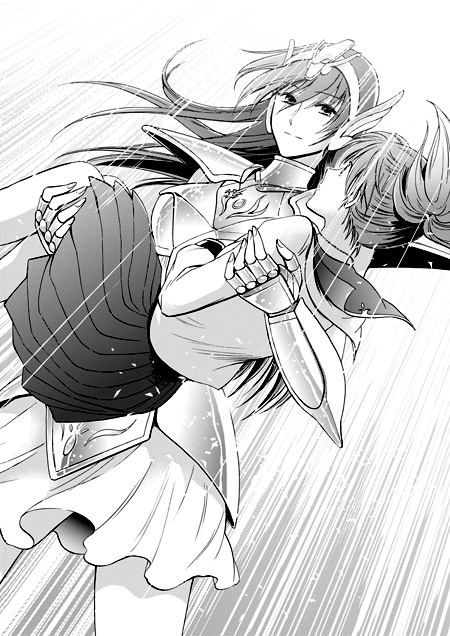 © Masami Kurumada / Chimaki Kuori 2013
But because this series takes such liberties with its source material, it's easy to wish it would take even greater, braver, stranger risks. We've seen the classic Saint Seiya template applied to other artistic styles and animation techniques for decades now. There should be something to set Sho apart and make it feel like more than a remix. It is not enough that the Saintia "are permitted the duties of caring (for Athena)" when in practice that amounts to little more than protecting her exactly as the Saints have. It is not enough that Eris and her dryads have replaced Hades and Poseidon and their hordes of Specters and Mariners when their plant-based powers are functionally identical to the cosmos-exploding antics of their predecessors.
It's no accident that Kurumada keeps recycling this formula. Saint Seiya revolutionized shonen fighting manga and possessed an irrepressible energy that influenced generations of manga artists. It may be too much to ask a simple spinoff to do the same, but one would hope Kurumada won't be content to let this reimagining turn out as forgettable as others when it has the potential to be something a bit more interesting. Saint Seiya's place in history is guaranteed; its place in the future is still up for debate.
Publisher: Seven Seas Entertainment
Story and Art: Masami Kurumada and Chimaki Kuori
Rating: T
This story appears in the June 2018 issue of Otaku USA Magazine. Click here to get a print copy.