[Review] Yoshitaka Amano: Illustrations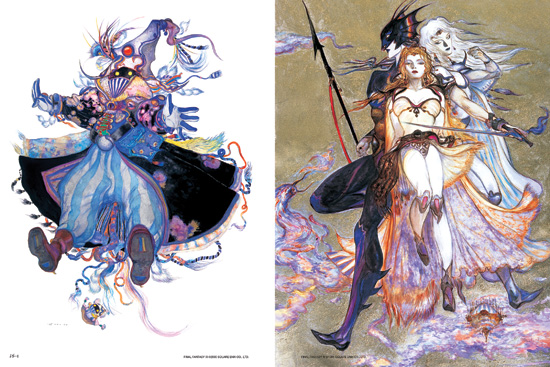 Yoshitaka Amano is revered the world over as one of the world's greatest illustrators, having contributed to properties like Final Fantasy, Vampire Hunter D, Gatchaman, and others. He's a remarkable artist whose work is immediately recognizable. Yoshitaka Amano: Illustrations is a gorgeous slice of impressive, colorful, and lively works that belongs on any artist's coffee table, whether you're into fantasy artwork or anything with colors and designs that truly pop.
The book may be of modest size (128 pages), but the talent showcased within its pages is unmeasured. The real draw for many fans will be the full-color splashes of artwork for Final Fantasy, the same images on the boxes the games came in when they originally hit store shelves in Japan. Amano depicts an otherworldly, surreal land that looks so unlike anything you'd expect from a video game.
Amano's career began at age 15 at the animation studio Tatsunoko Production. Since then, his work has ranged from classical portraiture to the fantastic, such as his designs for Vampire Hunter D, which brought him to the attention of Western anime fans. Each page bursts with a cacophony of rainbow colors and eye-popping line work, a dreamlike vision of the subject at hand. There's an ethereal quality to his artwork, taking you to a far-off place with a brighter, more exotic color palette than Earth.
Whether you're a hardcore fan or just getting into Amano's work, you'll find a lot to love about Yoshitaka Amano: Illustrations. Like Amano's The Sky: The Art of Final Fantasy, it's more than just an artbook, it's an experience and a treat for the eyes. Recommended.
publisher: Viz
story and art: Yoshitaka Amano
rating: All Ages