[Review] Assassination Classroom Live-action Film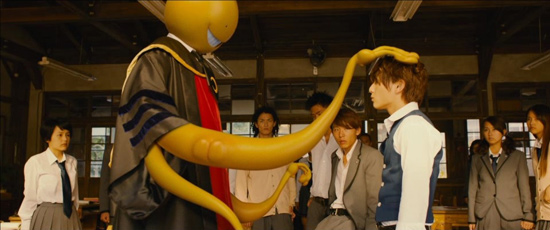 Assassination Classroom, the live-action film based on the manga of the same name, revolves around a fantasy that's run through the head of every junior high school student at least once: killing their homeroom teacher.
In Assassination Classroom, though, the teacher is a human-sized, bright yellow monster with tentacles for arms and a ceaselessly beaming smiley face for a head, and the killing of said teacher is officially sanctioned by the government, lest the teacher/monster destroy the world.
Why the monster – who comes to be known as Koro-sensei, a pun on the Japanese word for "unkillable" – chose to become the homeroom teacher of class 3-E is a mystery, but it gives the students ample time to attempt to assassinate him in-between studying for their final exams.
Assassination Classroom, which originally premiered in manga form in 2012, is posed to become this year's juggernaut franchise, with an animated series and various video games also underway.
The film version takes advantage of its medium by lining the cast with a who's who of current Japanese teen idols, making for the world's most impossibly good-looking class of 9th graders. It does not, you may be shocked to learn, lead to particularly nuanced performances.
But no matter, it worked: 90% of the film's huge first weekend audience was female (though for the male audience, there is the sultry Vitch-sensei, whose name – "v" sounds a lot like "b" in Japanese – makes for the brunt of some pretty dumb jokes).
Gender breakdown aside, there's an interesting generational division both in film's audience (overwhelmingly young people) and its characters. The middle-aged government officials who help train class 3-E in assassination techniques want to defeat Koko-sensei to save Japan. The students, on the other hand, couldn't care less about the fate of the world – they're in it for the 100 billion yen reward.
Are Assassination Classroom's young characters (and audience) reflective of the country's fatalist youth, born into a decades-long recession and feeling as if they have little power to change the world?
I may be reading into the film too deeply, but my brain didn't have much else to do – as a piece of storytelling, Assassination Classroom felt more like a series of non-cohesive chapters than a fleshed-out whole, probably thanks to its manga origins. And while there's plenty of classroom, there's no assassination to be found – the film ends a "to be continued" tag. No sense making a film with a satisfying conclusion when there's more money to be had with a sequel.
In that sense, maybe the generation who made the film and its characters are on the same wavelength after all.
---
Related Stories:

– Parasyte (Part 1) Film Review
– Princess Jellyfish Live-action Movie Review
– Rurouni Kenshin: The Legend Ends Review
– Fans Rank Anime They'd Hate to See Turned Live-Action
– A Brief History of Live-Action Anime Adaptions