Read Free Simultaneously-Released Manga through MANGA Plus This Year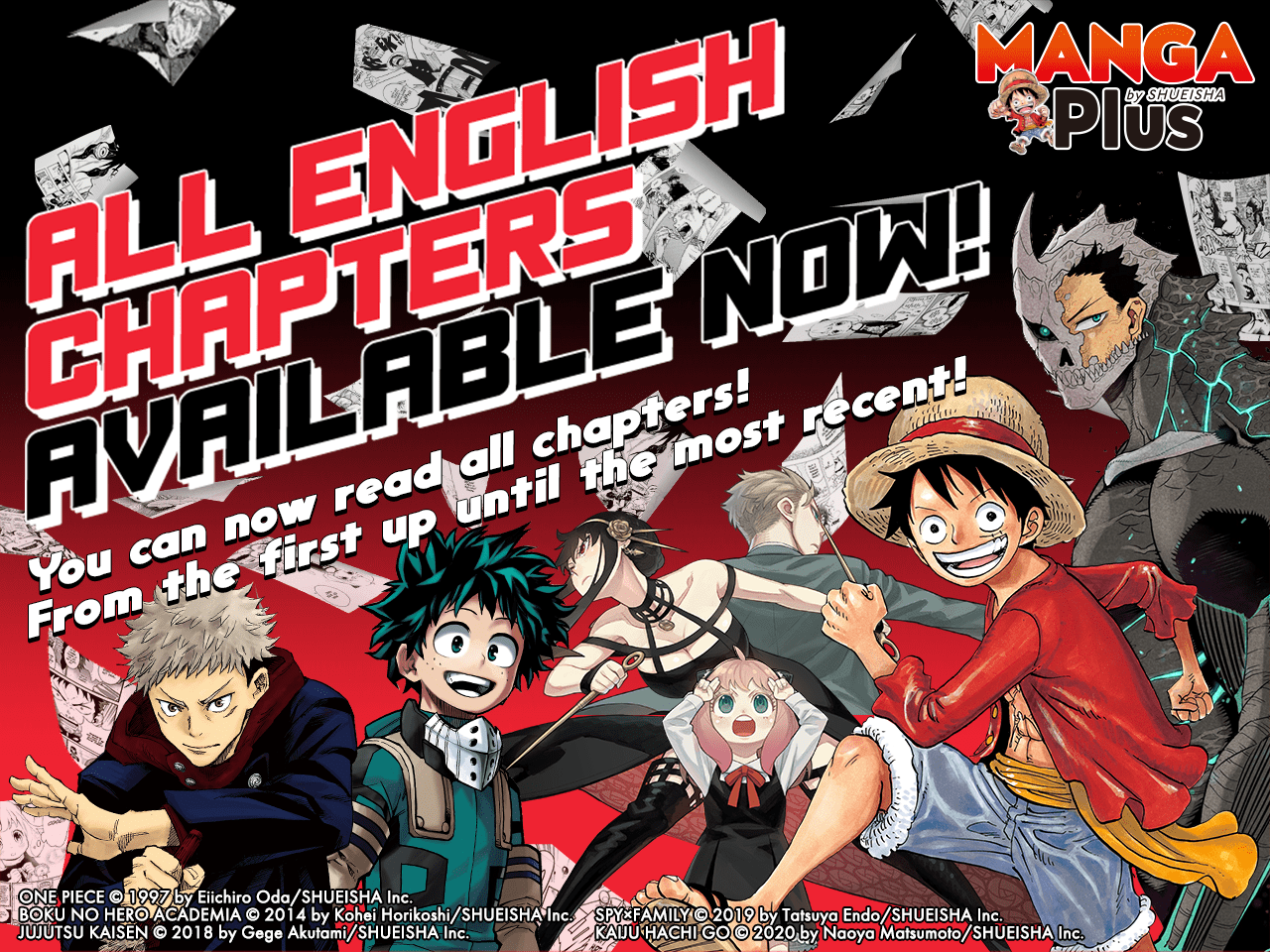 January 2022 marks the third anniversary of the debut of MANGA Plus by SHUEISHA, so the company is offering up something special for fans. During this year, all their English serialized chapters for their simultaneous releases will be up for one free read, available only through the MANGA Plus app.
That means you can read free chapters of the following series:
ONE PIECE
My Hero Academia
Jujutsu Kaisen
Black Clover
Dr. STONE
Mission: Yozakura Family
UNDEAD UNLUCK
Mashle: Magic and Muscles
Ayakashi Triangle
Magu-chan: God of Destruction
Me & Roboco
High School Family: Kokosei Kazoku
SAKAMOTO DAYS
The Elusive Samurai
WITCH WATCH
Blue Box
PPPPPP
Ayashimon
Protect Me, Shugomaru!
Doron Dororon
Boruto: Naruto Next Generations
Dragon Ball Super
World Trigger
Seraph of the End: Vampire Reign
Twin Star Exorcists
Show-ha Shoten!
Dandadan
SPY x FAMILY
GHOST REAPER GIRL
Monster #8
Excuse me dentist, it's touching me!
Hokkaido Gals Are Super Adorable!
Ron Kamonohashi: Deranged Detective
Tis Time for "Torture," Princess
Don't Blush, Sekime-san!
Diamond in the Rough
Even If You Slit My Mouth
Choujin X
Blue Exorcist and HEART GEAR will also be added to this list once they return from hiatus. Series that are already finished or re-released do not count for this offer. MANGA Plus further explained on its site: "'First Read Free' will become available when you download the app on your device for the first time, or update the app to the newest version. At any time during the campaign, you can read select chapters in the app only once for free. Free viewing of a chapter will end when the app's viewer is closed." MANGA Plus added, "If for some reason the app crashes while you are reading, a dialog box will show after restarting the app, allowing you to choose to read the chapter again."
If you're interested, you can get the iOS app here or the Android app here. The offer ends in January 2023.
Source: Press Release
____
Danica Davidson is the author of the bestselling Manga Art for Beginners with artist Melanie Westin, and its sequel, Manga Art for Intermediates, with professional Japanese mangaka Rena Saiya. Check out her other comics and books at www.danicadavidson.com.