Production I.G Teases Sherlock Holmes Anime Set in Kabukicho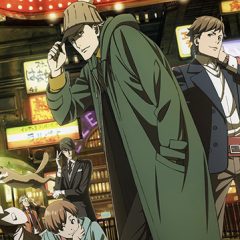 Sherlock Holmes Anime Set in Kabukicho" />Sherlock Holmes is the detective who keeps on giving.
We've seen plenty of properties based on the famous detective, including this year's Holmes at Teramachi Sanjo.
Now Production I.G, the folks behind Ghost in the Shell and the new FLCL, are creating a Sherlock Holmes anime set in Kabukicho, Tokyo's most famous red-light district.
Today it was announced the series, which is tentatively titled Kabukicho no Yatsu, will star Katsuyuki Konishi (Gurren Lagann) as Holmes. It's set to premiere in April 2019.
The series takes place in the neon-drenched, real-life district of Kabukicho, which is found just outside Shinjuku Station in Tokyo. It's been the location for many anime and live-action series and films over the years, including the manga-turned-movie Shinjuku Swan. It's also the home of the famous Robot Restaurant.
What mysteries will Production I.G's modern Sherlock Holmes uncover there? We'll find out next April.
Source: ANN