On The Shelf – September 14, 2011
It's finally here. It's the week so many of us have been waiting for—for weeks, for months, for years! It's the newly translated, uncensored, right-to-left oriented edition of Sailor Moon! Not to mention the first time ever that its predecessor, Codename: Sailor V, has been available to purchase in English. Alas that not all readers will have it available in their area for a little while yet, be it slow-to-no shipping or a comic store that Diamond Comics isn't distributing to yet. Never fear, readers! Sailor Moon will be available for all soon enough and this week has plenty of other books coming out to please just about every manga fan.
It's not often we see this much publisher diversity in one week. The only big player missing is Digital Manga (and you'll see why next week!). First up is a new series from Dark Horse that completely slipped under my radar—Blood Blockade Battlefront. It's a new series from the creator of Trigun and takes place in a futuristic New York City. Supernatural creatures and humans have been living trapped together in a bubble, and now someone wants to pop it! So sci-fi fighting and action ensues, so says the synopsis. I don't quite get it but the slick preview pages and that's-kinda-weird plot line has me curious to check it out.
DARK HORSE COMICS
• Blood Blockade Battlefront (Vol. 01), ($10.99/US, $13.99/CAN)
Kodansha Comics' big series this week is no doubt Sailor Moon, with Codename: Sailor V in close second. Magical schoolgirls battling evil and saving the world! If you've only ever seen the anime, then you're in for an extra treat. The manga is an almost entirely different experience—new bad guys, different pacing and  a darker, even more emotional plot line. If you've already read the manga, either from the Japanese editions or when Tokyopop released it almost a decade ago, then simply rejoice at the chance to finally own it in its super shiny, authentic English release and enjoy the nostalgia!
KODANSHA COMICS
• Arisa (Vol. 04), ($10.99/US, $11/99/CAN)
• Sailor Moon (Vol. 01), ($10.99/US, $11/99/CAN)
• Codename: Sailor V (Vol. 01), ($10.99/US, $11/99/CAN)
• Shugo Chara (Vol. 12), ($10.99/US, $11/99/CAN)
Speaking of teenagers in space (or at least spending a lot of time dreaming about it), Vertical Inc.'s title this week is Twin Spica (Vol. 09, reviewed here). The friendship between a group of potential astronauts has been growing ever closer but so has their impending graduation.It's getting tense thinking of who will make it, who could get picked to go into space and who could get left behind…
VERTICAL
• Twin Spica (Vol. 09), ($10.95/US, $12.99/CAN)
My pick from Viz Media's offerings is torn between two often over-the-top silly series—Detroit Metal City (Vol. 10) and Hayate the Combat Butler (Vol. 18). On one hand, you have a  KISS-inspired series about a crazy group of musicians led by a man whose legends make Satan look like a Saint. On the other hand, you have… a combat butler? Short a description as that may be, it's worth experiencing the series to find out what's so fun about its lively characters, often-unexpected situations and entertaining pop-culture references . As an extra manga treat, Viz Media is also releasing Art of Vampire Knight, a book of full-colour artwork for Matsuri Hino's Vampire Knight.
VIZ MEDIA
• Art Of Vampire Knight (Hardcover), ($24.99/US, $28.99/CAN)
• Detroit Metal City (Vol. 10), ($14.99/CAN)
• Hayate The Combat Butler (Vol. 18), ($9.99/US, $12.99/CAN)
• One Piece (Vol. 58), ($9.99/US, $12.99/CAN)
• Ultimo (Vol. 06), ($9.99/US, $12.99/CAN)
Bunny Drop is a no-question top pick from Yen Press this week for me. The reality-grounded story about a middle-age bachelor taking in a young child has been touching and often amusing since the get-go. Just as touching and with the addition of being endlessly educational is With The Light: Raising An Autistic Child (Vol. 08). I really wish I'd had a series like this when I was attending public school.
Witch and Wizard (Vol. 01)—another manga-style adaptation of a James Patterson novel—is also having its graphic novel length debut this week. It's drawn by Svetlana Chmakova (creator of Dramacon and Nightschool) so while adaptations of series I've never heard of don't usually have me running to the comic shop, this one certainly will!
YEN PRESS
• Bamboo Blade (Vol.10), ($11.99/US, $12.99/CAN)
• Bunny Drop (Vol.04), ($12.99/US, $13.99/CAN)
• Goong (Vol.12), ($18.99/US, $20.99/CAN)
• Kieli (Vol.05) – The Sunlit Garden Where It Began (Part 01), ($11.99/US, $12.99/CAN)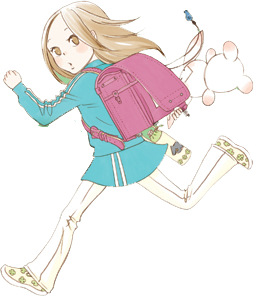 • My Girlfriend's A Geek (Vol. 04),
($11.99/US, $12.99/CAN)
• Raiders (Vol.07), ($11.99/US, $12.99/CAN)
• Witch And Wizard The Manga (Vol. 01),
($12.99/US, $13.99/CAN)
• With The Light: Raising An Autistic Child
   (Vol. 08), ($11.99/US, $12.99/CAN)
• Zombie-Loan (Vol. 12),
($11.99/US, $12.99/CAN)
That does it for this week's On The Shelf – what on the list are you most eager to buy? Any must-have recommendations? Share your thoughts in our handy comment area for all our readers to see!
* All dates are based on distributor listings and may not necessarily reflect exact release dates. Some books may be ship prior to or after the date listed above varying by location and availability.