On The Shelf – June 5, 2013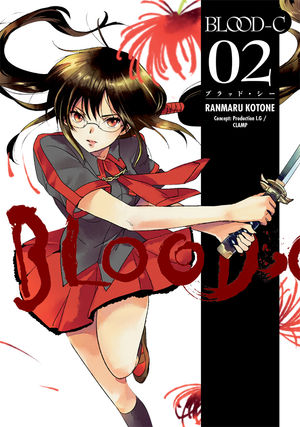 Manga tidal wave! What a fantastic way to start off the summer, which it finally feels like it is around here. But there are way more interesting things than the weather to talk of, so without further ado…
First up, Dark Horse is releasing the second volume of Blood-C. This series is a manga adaptation of an anime of the same name, which is another entry in the Blood franchise. What made this particular title notable was that the characters were designed by CLAMP, plus it also stars a version of the vampire hunter, Saya, who is a cute, innocent and bumbling young woman whose serious side only surfaces when she's slaying demons.
Regrettably, I must admit that the first volume of Blood-C was a bit of a bore, but the story is decent and the art is really nice, so I'll be giving volume two a go to see if the problems I had with it are improved.
DARK HORSE
• Blood-C (Vol.02), ($12.99/US, $14.50/CAN)
Kodansha Comics sets aside the supernatural this week with their book Missions of Love (Vol.03). Yupina sees a big boost in success with her cell phone novel, but at possible expense of her own relationships. Her readers may adore the newly added love-triangle, but Yupina has learned that it's not as easy to deal with it when you're one of the three involved.
KODANSHA COMICS
• Missions of Love (Vol.03), ($10.99/US, $11.99/CAN)
Seven Seas delivers to us the first new title showcased in this week's article – Sacred Blacksmith. This first volume introduces us to Cecily Campbell, a young woman who has just been accepted as a knight into the Knight Guards of Houseman. Eager to prove herself, Cecily goes out to stop trouble but finds herself outmatched in a fight. When a young man comes to her rescue, the two begin a journey together to repair a sword inherited from Cecily's Father. If the story sounds familiar, that's likely because FUNimation released the entire anime series last year.
SEVEN SEAS
• Sacred Blacksmith (Vol.01), ($13.99/US, $15.99/CAN)
But while we gained a new series, we're also losing one, as Vertical Inc. bids farewell to one of their own with GTO: 14 Days in Shonan (Vol.09). No spoilers as to how the series ends, but we can at least safely say that Onizuka will have more lessons to teach in his usual shocking, though effective, ways.
VERTICAL INC
• GTO: 14 Days in Shonan (Vol.09), ($10.95/US, $11.95/CAN)
A classic returns to print yet again as Viz Media releases Dragon Ball 3-in-1 (Vol.01). Some people may wonder how Viz Media manages to keep making money releasing Dragon Ball in so many forms, but it's clear there's still plenty of interested readers (and watchers, as FUNimation proves). Myself included, actually, as I have yet to replace my comic boxes of Dragon Ball floppies with a collected version. These new editions look great, especially with that updated cover art, and I'm excited to finally have some Dragon Ball graphic novels on my shelf.
Another generation classic has continuing adventures with Pokémon Black & White (Vol.10). Along with getting to see some Pokémon new to the manga, we also watch the plot ramp up as dreams of winning the Pokémon league take a momentary backseat to saving the world from another evil organization.
VIZ MEDIA
• Dragon Ball 3-in-1 (Vol.01), ($14.99/US, $16.99/CAN)
• Pokémon Black & White (Vol.10), ($4.99/US, $5.99/CAN)
Brand new series number two of the week comes from Yen Press with Are You Alice? (Vol.01). With manga such as Alice in the Country of Hearts and Pandora Hearts, it seems like Yen Press might be tapping themselves out on material based on Alice in Wonderful. But Are You Alice? puts a neat twist on the story – in this title, Alice is a young man dragged into a game of 'Kill the White Rabbit' in a strange world run by the Queen of Hearts. Try as he might to resist the story already laid out for him, he finds that deviating from the pre-written path has dire consequences.
It's explosions, explosions and more explosions in Btooom! (Vol.02). Btooom! also stars a young man thrust into a deadly game against his will, but Ryouta is a bit less sympathetic as a character. Still, watching him and a group of others try to survive being dropped on an island with limited supplies and cases of bombs should certainly prove interesting.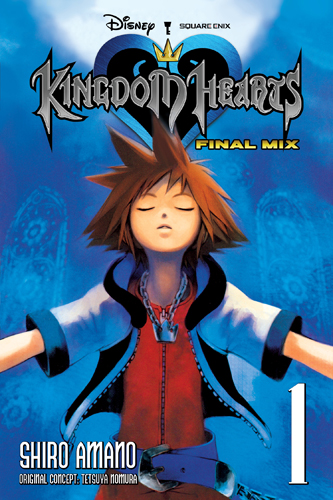 Then it's a blast from the not-so-distant past as Yen Press puts out their own release of the Kingdom Hearts manga. The two Kingdom Hearts Final Mix volumes out this week cover the first video game and contain tweaked and polished versions of the manga that differ slightly from the Tokyopop editions. I haven't read my old volumes or played the games in years, so it was lots of fun revisiting the story and characters this way. These books are also paving the way for more Kingdom Hearts manga volumes and an art book out from Yen Press over the next few months.
The Disappearance of Nagato Yuki-chan (Vol.04) takes off right where the third volume left us, much to the joy of many readers who have been white-knuckled waiting for the resolution to that cliffhanger. While Yuki survives her close encounter, it has unexpected results that leads to the introduction of a 'new' character. Who is she, how will the club members react, and what will happen in light of Yuki's feelings for Kyon?
And last up for showcase this week is the second volume of Thermae Romae. I adored the first volume of this series. Putting aside the amazing production value Yen Press has given these hardcover books, the fact they took a chance on a series about a roman bath designer who gets teleported to modern day Japan to learn about bathtubs is really something else. The fact that it ends up being so interesting and funny was almost more surprising. In this second part, Lucius continues his accidental research, but political drama is brewing back home and the future of the Empire may suddenly be teetering on Lucius's shoulders – or at least his baths' ability to sooth the shoulders of a certain leader-to-be.
YEN PRESS
• Are You Alice? (Vol.01), ($11.99/US, $12.99/CAN)
• Black God (Vol.10), ($11.99/US, $14.99/CAN)
• Blood Lad (Vol.03), ($18.99/US, $20.99/CAN)
• BTOOOM! (Vol.02), ($11.99/US, $12.99/CAN)
• Durarara!! Saika Arc (Vol.02), ($11.99/US, $12.99/CAN)
• Kingdom Hearts Final Mix (Vol.01), ($12.00/US, $13.00/CAN)
• Kingdom Hearts Final Mix (Vol.02), ($12.00/US, $13.00/CAN)
• Omamori Himari (Vol.10), ($12.99/US, $13.99/CAN)
• The Disappearance of Nagato Yuki-chan (Vol.04), ($12.99/US, $13.99/CAN)
• Thermae Romae (Vol.02), ($34.99/US, $38.99/CAN)
• Soul Eater (Vol.14), ($11.99/US, $12.99/CAN)
• Umineko: Turn of the Golden Witch (Vol.01), ($20.99/US, $22.99/CAN)
That does it for this week's On The Shelf – what on the list are you most eager to buy? Any must-have recommendations? Share your thoughts in our handy comment area for all our readers to see!
* All dates are based on distributor listings and may not necessarily reflect exact release dates. Some books may ship prior to or after the date listed above varying by location and availability.