Noitamina Interviews Ping Pong Director Masaaki Yuasa
Noitamina, the alternative anime programming block on Fuji TV, is celebrating their almost-10-year anniversary with a series of interviews with creators who've worked on Noitamina shows.
That impressive list includes Masaaki Yuasa, a highly regarded figure for anyone into anime that goes beyond (often way beyond) the usual bounds of the medium. Yuasa's directorial credits include Mind Game, Kemonozume, Kaiba, last year's Kickstarter success story Kick-Heart, plus current Noitamina production Ping Pong.
We've had the pleasure of interviewing Yuasa before, but the more insight we can get into how his unique mind works, the better. So without further ado, our summary of the Noitamina Yuasa interview.
Before working for Noitamina, Yuasa's initial impression was that as a major network block, it would be filled with standard anime, but when he took a closer look he realized "Noitamina runs a lot of challenging works." He was especially impressed by Hakaba Kitaro, Samurai Horror Tales and its spinoff, Mononoke.
Yuasa first made his mark on Noitamina in 2010 with The Tatami Galaxy, a mind-bending Groundhog Day-esque show about a disaffected college student living in a cramped dorm room in Kyoto.
Though Yuasa had previously directed the TV series Kemonozume and Kaiba, The Tatami Galaxy was his first series on standard broadcast television (the previous series having run on satellite).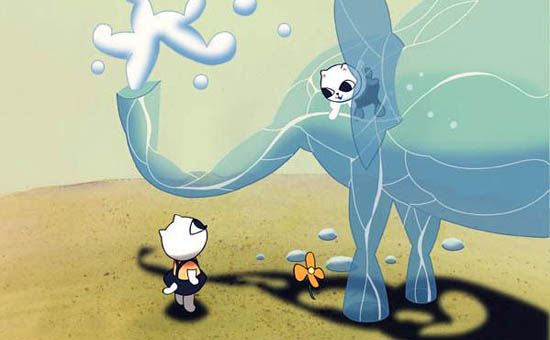 Yuasa reveals that while the early planning stages of The Tatami Galaxy went very smoothly – he liked the original novel and the character designs from its front cover, and quickly secured Asian Kung Fu Generation to do the theme song – he had doubts about doing the show because it was similar in theme to his previous film Mind Game.
He also reveals that even once he decided to go ahead with the project, he wasn't sure exactly what the original novel was trying to say until deep into production on the first episode, when it finally clicked: this was a show about a protagonist "who acts like a martyr without accepting responsibility."
Turning to Ping Pong, Yuasa says he had doubts about doing that series as well. "Honestly, I thought 'why make Ping Pong now?'" he says, referring to the fact the original manga had already been made into a successful live-action film. In the end, though, he found a reason to direct it – namely, the show's "the hero will win" theme.
"These days, it feels like it's hard to have dreams," he says, "in this atmosphere, there's meaning in making something about the triumph of a hero."
Yuasa also mentions while he was a huge fan of the original manga when he came out, he didn't realize how popular it was until the was anime announced and the reactions from devoted fans came rolling in.
Finally, he mentions that when he met Taiyo Matsumoto, the creator of the original Ping Pong manga, he asked questions about why this or that happened – only to be rebuffed by Matsumoto answering, "hm, never really thought about it!"
Returning to the Noitamina theme, the interviewer asks Yuasa what theme or style ties Noitamina works together. "In a word, sophistication," he answers. "The original Ping Pong is already sophisticated, so I didn't need to add anything to it," he adds, "in fact, I've intentionally made it a little simpler."
As a final note to Ping Pong viewers, Yuasa asks that while Ping Pong's already a popular manga and film to try to come at his version from a fresh perspective. Like a well-known folktale, the point isn't so much the story as how the cast and crew interpret it.
---
Related Stories:

– Ping Pong: Nothin' But Love
– Kick-heart Tokyo Premiere Review
– Kick-Heart Staff Interview
– Kick-Heart Anime L.A. Interview