NJPW's G1 Climax Madness Continues on Night Two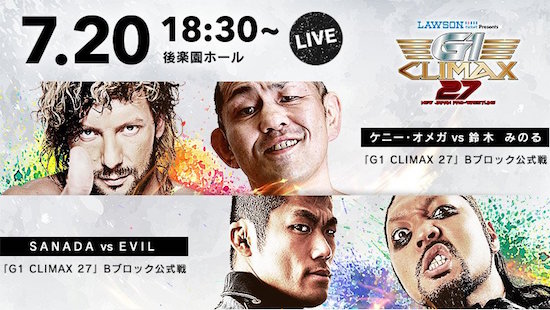 Night two of the G1 Climax brought on the B Block action with plenty of satisfaction from the Mecca of Martial Arts, the Temple of the Toe-Hold, Korakuen Hall. The stench of death didn't quite fill the air as it did on night one, but it was a solid evening of excitement, regardless. 
No, wait, a ringside photographer almost died. Never mind. It was great.
Juice Robinson defeats Satoshi Kojima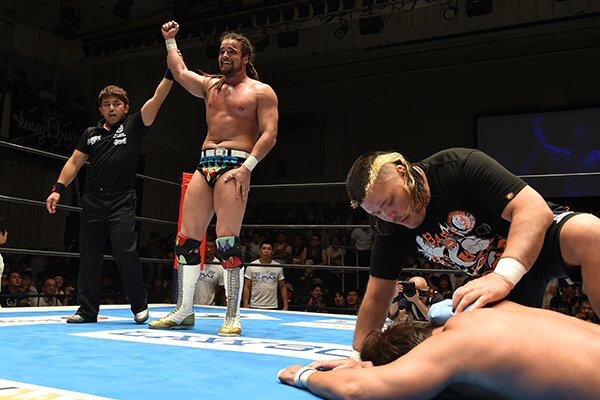 Satoshi Kojima is the 2010 G1 Climax winner, and the only wrestler to ever hold both the IWGP Heavyweight Title and the All Japan Triple Crown simultaneously. But more importantly, the man really loves bread. He tweets about it all the time, and even formed an unofficial faction dubbed The Bread Club. He's adorable.
Juice walked away from a WWE contract to join NJPW's dojo as a Young Lion, effectively hitting the reset button on his career. He entered the ring a G1 Climax virgin, and found himself being touched for the very first time by a crushing lariat that sent him over the ropes, and into the steel barricade. 
The rookie then nailed the bread muncher with a shotgun dropkick in response. But this burst of offense was fleeting, as Juice next found himself playing backup to Kojima as he performed his greatest hits: The Koji-Cutter, The Best Lariat in the World, all the favorites. I've no doubt that Juice was honored.
So honored that he rallied to crack Kojima in the jaw with a punch, followed by the Pulp Friction for a come-from-behind, surprise victory. Afterwards, an emotional Juice embraced Kojima. It was the feel good match of the evening. 
Tama Tonga defeats Michael Elgin
Tama Tonga is one half of former IWGP Heavyweight Tag Team title holders The Guerrillas of Destiny, while "Big" Mike Elgin was a big standout in last year's tournament. The two had a solid, if unspectacular match that saw Tama hitting the Gun Stun off the top rope for the win. 
The highlight was Elgin spilling over the barricade, and landing booty-first in a woman's face—leaving his behind parked there for a lengthy stay. Everyone nearby could hardly mask their jealously. 
SANADA defeats EVIL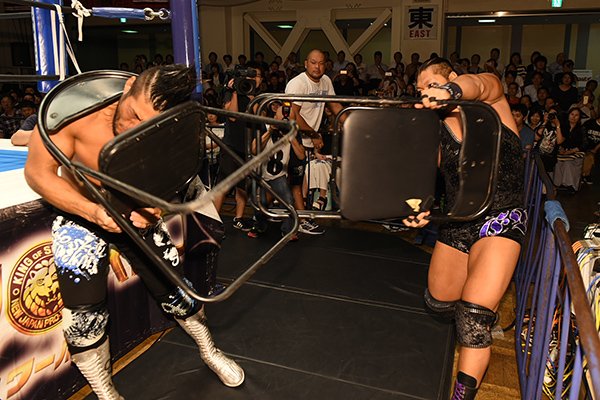 L.I.J. member vs L.I.J. member, guy who spells his name with all caps vs other guy who spells his name with all caps. Gripping stuff.
EVIL entered wearing his trademark hooded cloak, scythe in hand. Underneath he kinda looks like Pugsley from The Addams Family with a ponytail. The reveal is always a tad underwhelming. My girlfriend laughs every time.
SANADA might be the best pure athlete in the company, exhibiting nothing short of excellence in his execution, a la Bret Hart. He also doesn't have much of a personality, a la Bret Hart—hence the two-foot-tall mohawk. He's trying, alright?
Being that these two are buds, and share the Never Openweight 6-Man title (just roll with it), it's natural to wonder: "Just how nasty are they willing to get?" The answer: Real nasty. Like EVIL faking a handshake and kicking SANADA in the gut nasty. Maybe he really is evil after all?
A chair got involved in the early goings, and when a chair comes into the mix that quickly, you know things are bound to be good. When said chair accidentally goes flying into a cameraman's skull, you know you just may be watching the match of the night. 
The finishing sequence saw EVIL go for the Banshee Muzzle (such a cool name), only for SANADA to escape and eventually lock in the Skull End (not as cool, but that's ok). This set the weakened EVIL up for a bout-ending moonsault from his stablemate.
The two then bro'd it out in the center of the ring, showing us that L.I.J. is for life. Not as heartwarming as the Juice/Kojima embrace, but it's nice to see that they aren't about to let a little thing like the G1 Climax ruin their friendship. 
A total show stealer.
Kazuchika Okada defeats Toru Yano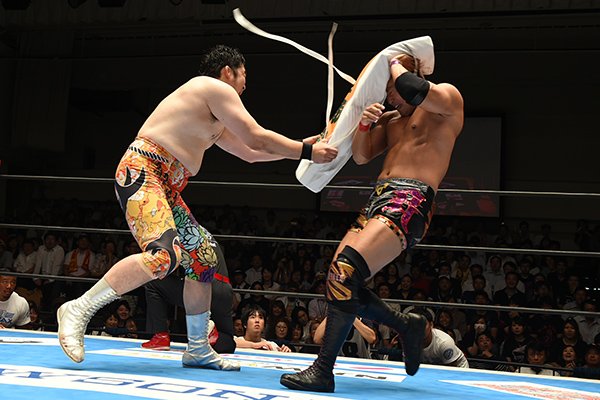 Yano looks like he'd be more at home sneaking upskirt shots on the subway than in a wrestling ring. Okada, meanwhile, is gorgeous. I mean, he's just too goddamn beautiful to be sharing a ring with this man. There should be some sort of law preventing this. 
Honestly, it's all too upsetting to recap. At one point Okada was nearly finished due to a groin shot. How dare you touch him there, Yano, how dare you. Okada forced the tap out with the Red Ink, which required him to wrap his arms around Yano in the process. Much too high a price for victory. 
The crowd actually cheered for Yano in the aftermath of this vile display. They should be ashamed. Ugh, just ugh. 
Kenny Omega defeats Minoru Suzuki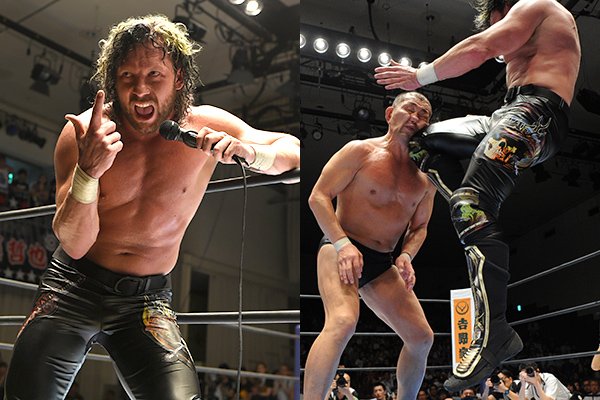 Kenny Omega is a Capcom character made flesh and blood. Flesh to be battered and blood to be spilled by Minoru Suzuki. 
Suzuki is a former Olympic alternate, an MMA pioneer, and the rough beast that Yeats described as slouching toward Bethlehem. Also, he once killed a man. Three of those things are true, I'll let you decide which.
Omega made the mistake of fighting Suzuki's type of match early on, which resulted in him having his legs wrapped around the bars of the barricade, and being dragged through the crowed and beaten with a chair. Hobbled, Omega stumbled back into the ring where he managed to hit a one-legged moonsault, but a botched V-Trigger attempt left the referee out cold instead of his opponent.
This opened things up for Suzuki's band of goons to storm the ring, and go to town on Omega. Disgraceful stuff that has no place in something as prestigious as the G1 Climax. Thankfully, the 320-pound Bad Luck Fale was on hand to clean house, and we were able to get back to a fair and square, one-on-one wrestling match. 
Omega then fell victim to a variety of painful leglocks at the hands of a veritable leglock master, followed by Suzuki attempting to choke him into unconsciousness. Suzuki says he enjoys applying chokeholds because, "it's what death feels like." He's a horrible human being. I love him. 
But a sampling of sweet death isn't enough to keep Omega from landing two V-Triggers and the One Winged Angel for the pin. The old gods that lurk below will have to wait another day for their minion to deliver them a sacrifice. 
A great main event slightly marred by outside interference. 
So in the end it's Juice Robinson, Tama Tonga, SANADA, Kazuchika Okada, and Kenny Omega earning two points a piece, with the losers receiving nothing but your praise and adulation for a match well fought (except for Yano, he's terrible). 
I'll see you all again on Monday with recaps of all three (!!!) shows from this coming weekend, including Kota Ibushi vs Tomohiro Ishii in a match that will likely end with a corpse being carried out of the ring. So until then, as Kenny Omega would say, goodbye and goodnight.