New Simpsons' Death Note Sneak Peek Includes Ryuk, Homer as Drunk Salaryman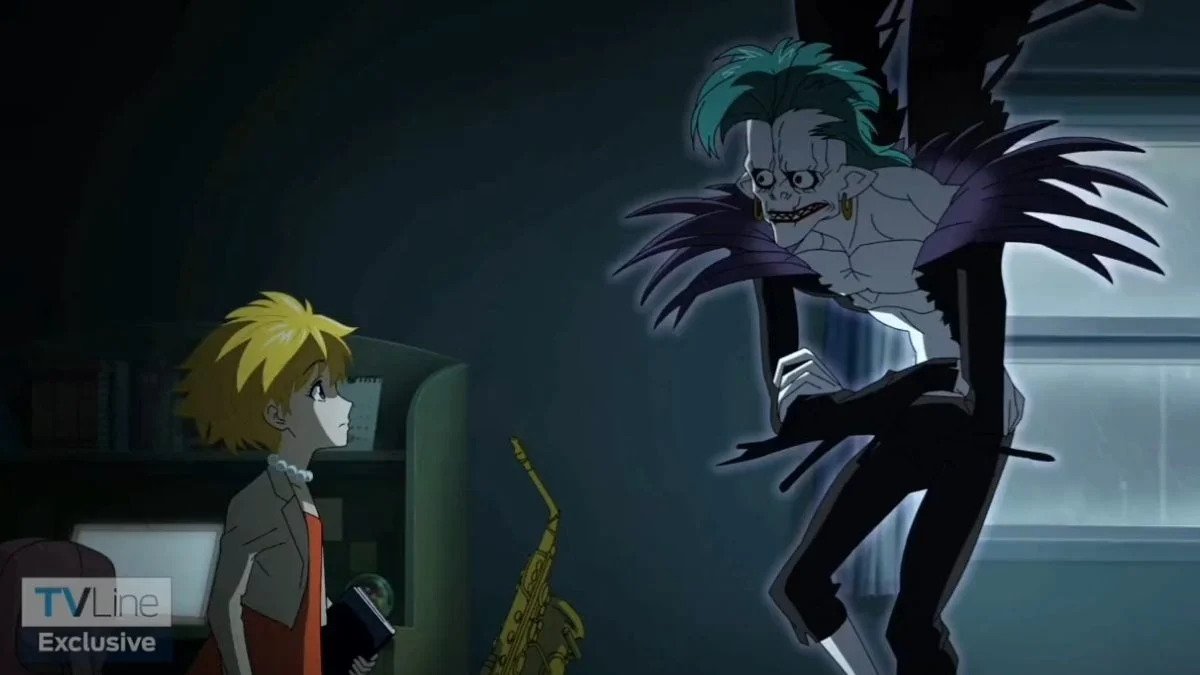 In two days The Simpsons' new Treehouse of Horror will premiere, and it includes a spoof of Death Note that was animated by a studio that worked on the Death Note anime. Earlier this week a clip was revealed of Lisa (as Light Yagami) receiving a Death Tome. Now a new, longer sneak peek has been revealed, and it includes Lisa meeting Ryuk and Homer as a salaryman.
The clip starts after Lisa has killed someone. We don't know who, but she says it's someone bad, and then she starts to feel like a hero for ridding the world of this person. Then Ryuk — though he goes by a different name in the parody — shows up. He accurately refers to himself as a shinigami instead of using a different term, as sometimes happens in translations.
After this, Lisa and the Ryuk spoof go downstairs where Homer and Marge are in the kitchen with Homer's boss, Mr. Burns.
"I was karaokeing with my employer as is a salaryman's obligation," a very drunk Homer slurs.
"You're stinking drunk," Marge says, then adds, "I'm so proud."
"It's the part of my job that I do best," Homer replies.
This shows the spoof is not only knowledgeable about Death Note, but about the culture of salarymen in Japan. Drinking after the job with the boss is a known scenario in the lives of many a salaryman. And, yes, it probably would be the part of the job Homer does best. (So when Homer sleeps at work, does that mean he's viewed as a good employee because he's worked so hard he's exhausted himself?)
Simpsons writer Carolyn Omine will be live tweeting the episode's Easter eggs when Treehouse of Horror plays this Sunday night.
Source: TV Line
____
Danica Davidson is the author of the bestselling Manga Art for Beginners with artist Melanie Westin, plus its sequel, Manga Art for Everyone, and the first-of-its-kind manga chalk book Chalk Art Manga, both illustrated by professional Japanese mangaka Rena Saiya. Check out her other comics and books at www.danicadavidson.com.