My Hero Academia Season 3 Reveals More Cast Additions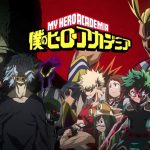 More cast members have been revealed for the upcoming third season of the My Hero Academia anime. The latest update comes from this year's 15th issue of Weekly Shonen Jump magazine, and this time around we have four League of Villains characters in the spotlight.
Here's a quick rundown of the characters, their Quirks, and who's playing them:
Twice (Quirk: Double) – Daichi Endō
Mr. Compress (Quirk: Compress) – Tsuguo Mogami
Spinner (Quirk: Unknown) – Ryō Iwasaki
Magne (Quirk: Magnetism) – Satoru Inoue
My Hero Academia season 3 kicks off on April 7.