Manga Review: Vinland Saga #1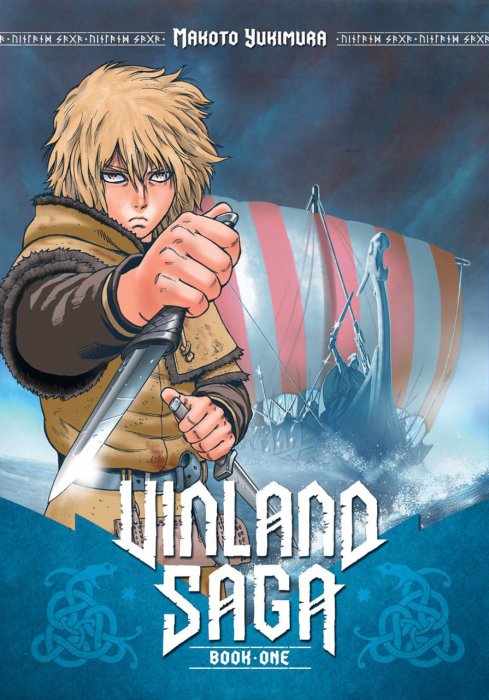 More than anything else in the world, Thorfinn wants revenge against Askeladd, the Viking who killed his father. When Thorfinn was just a boy, he saw the murder right in front of his eyes—how Askeladd used a cheap trick in order to slaughter Thorfinn's father, who was an honorable warrior.
But now Thorfinn is older, and he works for Askeladd. It's a complicated situation.
Askeladd knows Thorfinn plans to kill him, but he knows Thorfinn is determined to do it in an honorable way, so he's not too worried. In other words, Thorfinn's not going to sneak into Askeladd's bedroom one night and slit his defenseless throat. Thorfinn wants to make it a fair fight, because that's what he was taught to do. He doesn't want to sink to Askeladd's level.
Vinland Saga takes us back in time about a thousand years, to the world of the Vikings. It begins by showing Thorfinn working for Askeladd during war raids, all the while trying to set up a duel to the death. But much of the book is a flashback, showing Thorfinn as a little boy who was very attached to his father, Thors. Some details about Thors' early life are revealed, though most is kept secret, with hints that there is important information there.
This is historical fiction that interweaves facts and fiction. Leif Ericson is a character whom Thorfinn knows well in his boyhood, and Leif talks about the wonderful land of Vinland, where everything is peaceful and right. The manga is intricately illustrated, which is especially nice in a historical fiction like this. We get to see details of how the Vikings looked and lived (and, by the way, you get to see photographs of mangaka Makoto Yukimura dressed as a Viking). It's not 100% accurate, though, and there are some distinctly Japanese things sneaking in there, like characters sneezing when they're being talked about.
Kodansha Comics has put the first two volumes of the manga in this omnibus, which was a good decision because it gives the readers more opportunity to see Thorfinn's back story right away and better understand what's going on. There's also an extra short story in the end from Yukimura, one that's never been in English before. So far Vinland Saga is adventurous and fast-paced, with strong promises of more goodness to come.
Story & Art: Makoto Yukimura
Publisher: Kodansha Comics